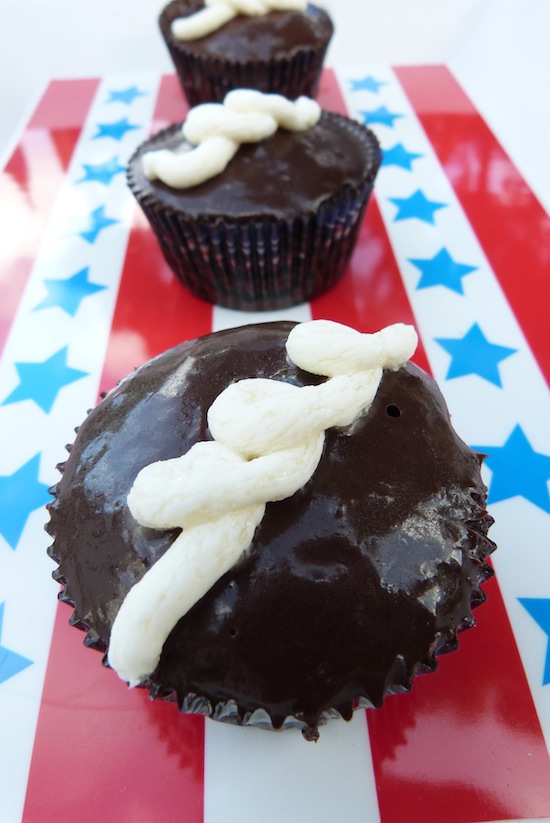 Happy birthday America! I didn't create anything red, white and blue for the occasion, but I did make a batch of Hostess style cupcakes. They are America's favorite snack cake, so really what better food  to commemorate America's birthday. The Hostess cupcake was created in 1919 and the first two cupcakes sold for five cents. It wasn't until 30 years later that the squiggles and cream center were added.   It is also the best-selling snack cake in history (beating the Twinkie!).

The Hostess cupcake epitomizes all that I like about dessert : 1. It is chocolaty 2. There is a cream filling involved. That's it, that's my list. If your dessert has those two things I love it.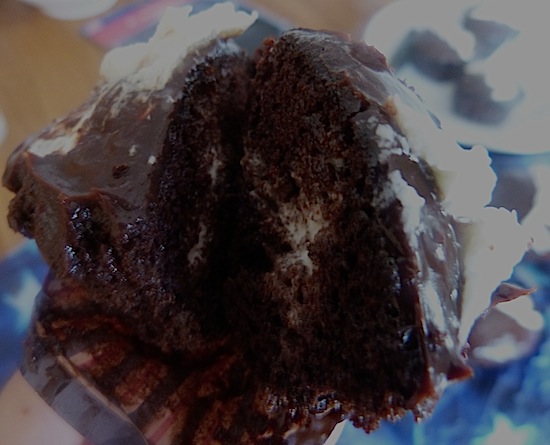 I was inspired to make these after my cousin brought a version of these to a BBQ at my house last week and right when I saw them I knew I had to make them. They were picture perfect and so delicious.
There are three components to these: the cake, the filling and the ganache for the topping. This may seem like a lot but trust me it's worth it in the end. I got the recipe from orwhateveryoudo.com and I have to say the recipe is perfect! The only thing I did different was leave out the icing and I piped the filling on the top instead.
The recipe for the cakes calls for a cup of hot coffee. This does not make your cupcake taste like coffee. At all. I have been avoiding recipes that include coffee for years, but I finally did some research and coffee is added to chocolate cake recipes because the coffee enhances the flavor of the cocoa powder producing a more chocolaty, rich flavor. I definitely noticed a difference and this is my new favorite recipe for a chocolate cupcake. I used a decaf dark roast.
I also used to ignore recipes when they tell you to sift the dry ingredients. I don't know if I thought it was a joke and chefs just wanted to add an extra step or if I thought some people just didn't know how to properly mix dry ingredients. But no, sifting is really serious business. It can affect the texture of your cupcakes. It aerates the flour producing a lighter, fluffier texture. It also ensures that all the dry ingredients are really well mixed.
Note in the below picture how much finer the texture is of the sifted dry ingredients in the bowl as opposed to in the sifter.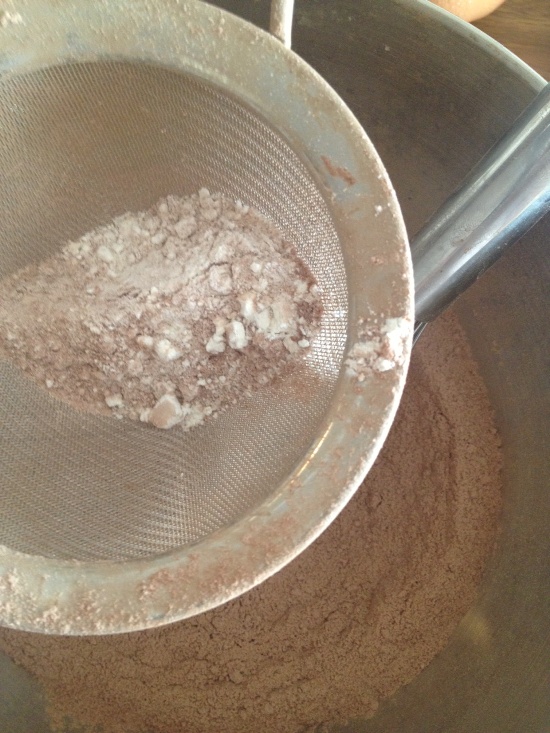 Once you finish the cake and have the filling ready to go you can either pipe the frosting in or cut out a circle about ¾ inch deep in the cupcake and put the filling inside and then put the top of the cupcake back on. I personally think its easier to inject the cupcake with the filling and you actually see the cupcake balloon out a bit when you do this.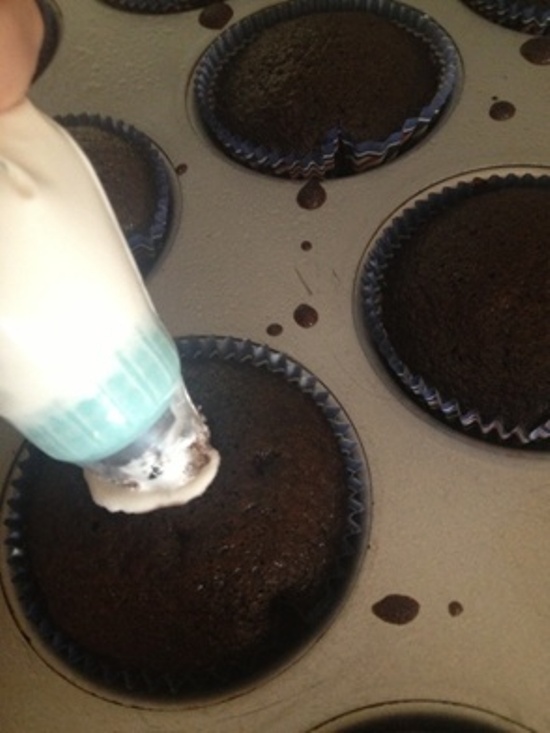 At this point the cupcake is almost complete. Ganache is really quick and easy.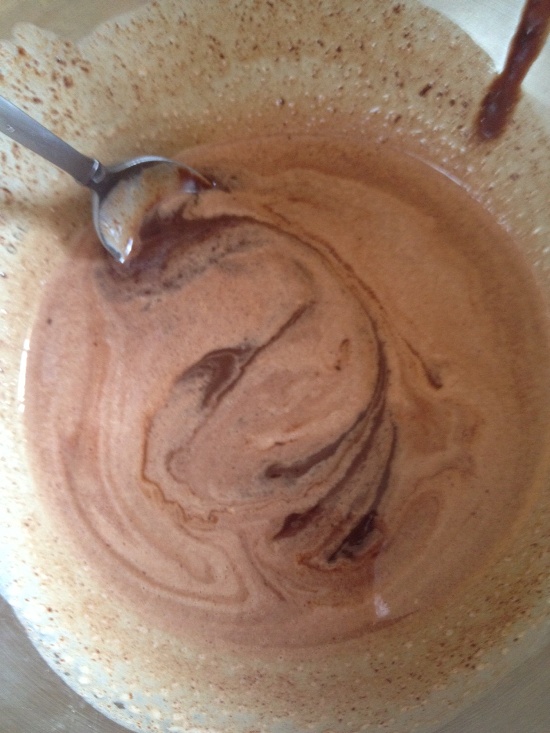 Dip the cupcake tops in the ganache and be sure to let set in the fridge before you pipe some of the filling on the top.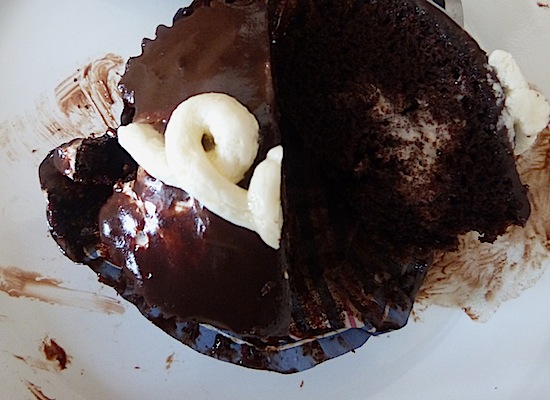 Just looking at a Hostess cupcake makes me smile. I think it's the squiggly top. Hostess cupcakes have 7 loops. Mine have 2 or 3 if I'm lucky because I don't have a small tip to my piping bag.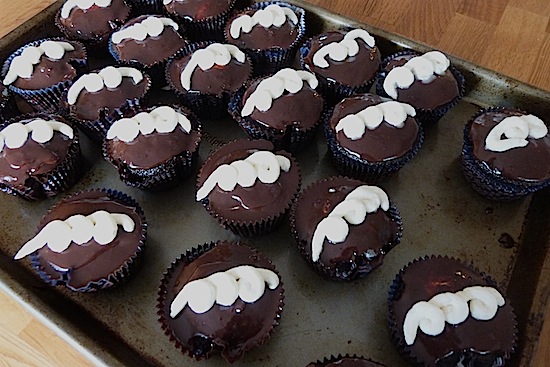 And lastly, Marc loves the cupcakes. He's going to kill me.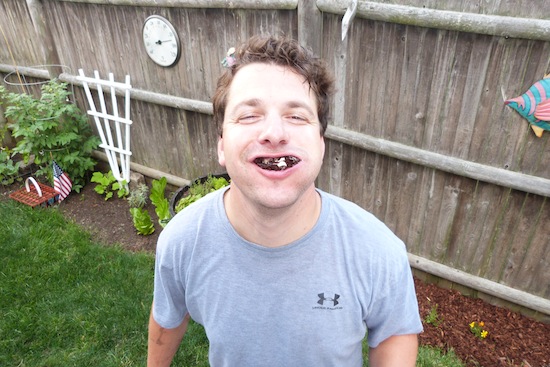 Homemade Hostess Cupcakes
I got this great recipe from orwhateveryoudo.com. The only thing I changed was I left out the icing and used the filling and piped that on top. With this recipe I made 24 regular sized cupcakes and I had a tiny amount of leftover batter that I made 2 jumbo cupcakes with using a muffin tin.
Author:
orwhateveryoudo.com
Ingredients
Cupcake:
2 cups cake flour
1 tsp salt
1 tsp baking powder
2 tsp baking soda
¾ cup cocoa powder
2 cups sugar
1 cup canola oil
1 cup hot strong coffee (I used a dark roast decaf and it worked great)
1 cup whole milk (2% would work too)
2 lg eggs
2 tsp vanilla
Filling:
4 TBSP butter
1 cup powdered sugar
2 tsp vanilla
3 TBSP heavy cream
1 cup marshmallow cream (like Fluff)
Ganache:
1 cup milk chocolate chips
½ cup heavy cream
1 TBSP butter
2 tsp vanilla
Instructions
Preheat oven to 350 F and line your cupcake tin.
To make cupcakes: Into a medium sized bowl sift together the flour, salt, baking powder, baking soda, cocoa, and sugar. Set aside. In the large bowl of a stand mixer, combine oil, coffee and milk. Slowly mix in the dry ingredients until fully combined. Add eggs and vanilla and beat on medium speed for 3-5 minutes.
Fill liners ⅔ of the way full. Bake at 350 F for 15-20 minutes for the cupcakes, or until a toothpick comes out clean. The cake will require an additional 5 minutes or so. Remove from oven and let cool, and then remove cupcakes from the cupcake tins.
To make the filling: While your cupcakes are cooling cream the butter with ½ cup of the powdered sugar. Add vanilla and 1 TBSP of cream. Beat until well combined, scraping down the sides as necessary. Add last ½ cup of powdered sugar and remaining 2 TBSP of heavy cream alternating between the two and mixing well between each. Beat in the marshmallow cream last.
Place the filling in a piping bag with a filling tip, and poke into center of completely cooled cupcakes, moving up and down as you gently squeeze approximately ½ – 1 TBSP of filling into each cupcake. You will see a bit of the cream coming out of the top of the cupcake but it's OK because you will be covering up with the ganache.
To make the ganache: heat ½ cup of heavy cream and 1 tbsp. butter until almost boiling. Pour over chocolate chips in a metal bowl and stir well until the chocolate is completely melted. Add 2 tsp vanilla and stir until combined.
Dip the filled cupcakes into the ganache to coat. Place the cupcakes in the refrigerator until the ganache is set, about 30 minutes.
Place leftover filling into a piping bag or small plastic bag with tip cut off and pipe the squiggles onto the cake.