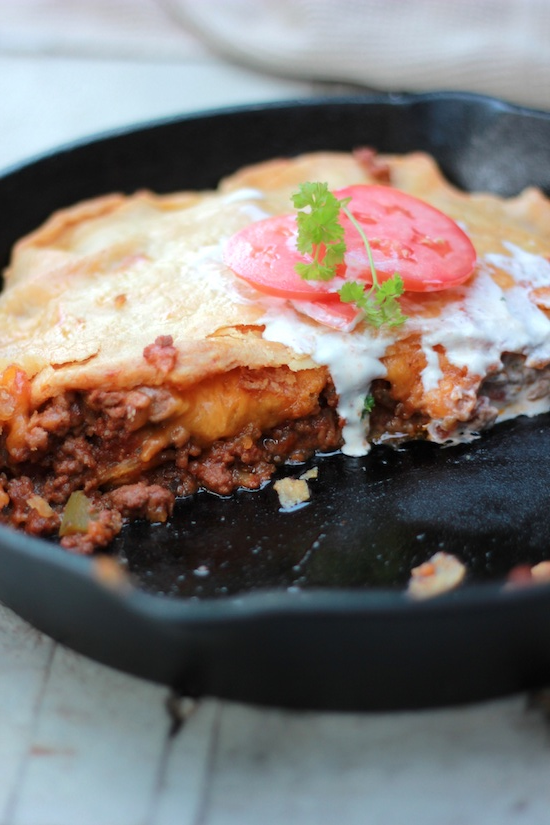 For a long time, particularly in my school days, sloppy joes conjured up images of mysterious ground meat drowning in a sauce. At some point between college and now I began to love them. One night, to my horror, my dad announced he was making sloppy joes. I reluctantly tried them and was surprised when I thought they were delicious.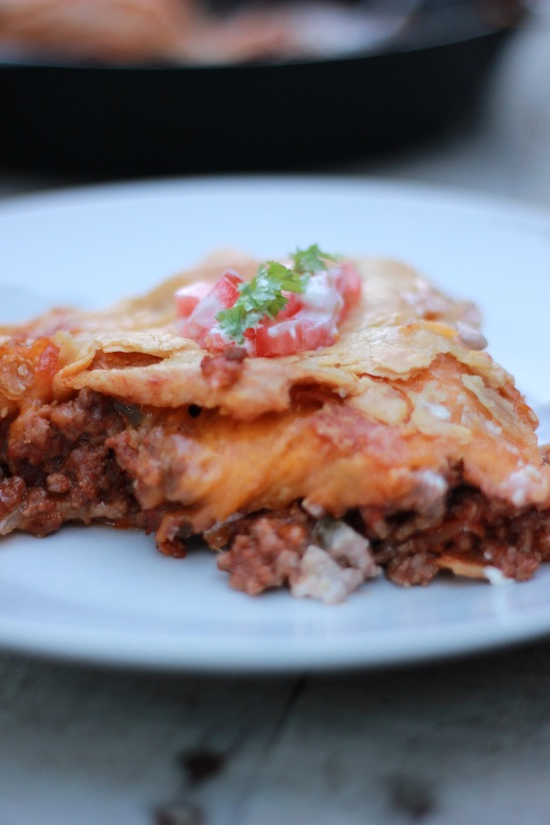 That night I pushed aside all the negative feelings I had been harboring for sloppy joes. Fast forward to now and I am making pies with a sloppy joe filling. I've come a long way!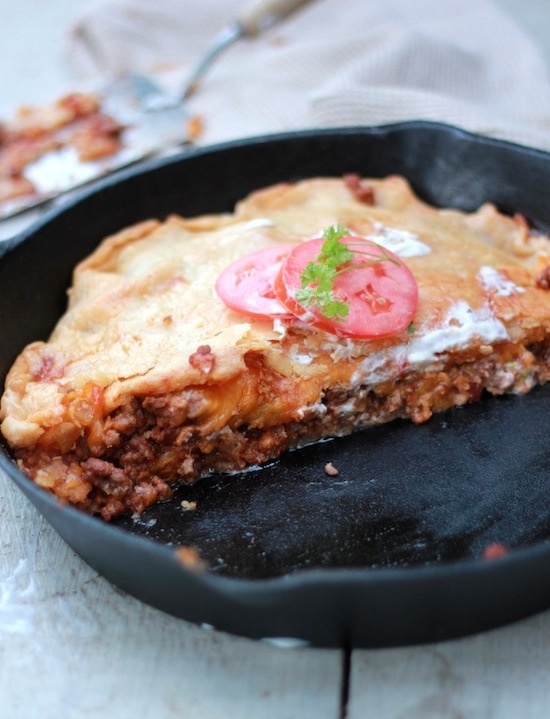 This pie packs a lot of strong flavor. The sweetness from the sauce covered beef contrasted with the sharp cheddar, baked in between a buttery, flaky crust is an amazing combination
It's also really simple and quick to prepare. I used a store bought crust but if you want you can make your own using your favorite pie crust recipe. I would prefer to go that route but these days I'm taking whatever shortcuts I can to save some time.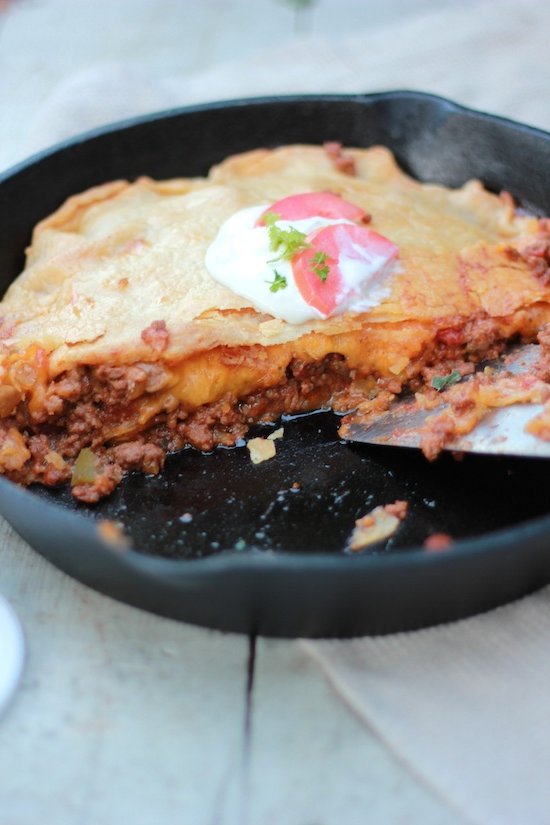 The toughest part of this recipe is chopping up the onion and pepper (unless you are making pie crust from scratch).The rest is just browning beef and adding ingredients to the pan.
Making this pie goes a little something like this:
Brown beef
Add ingredients to the beef to make the sauce
Stir and simmer
Add beef mixture and cheeese on top of pie crust
Cover with second piece of pie crust
Bake
EAT!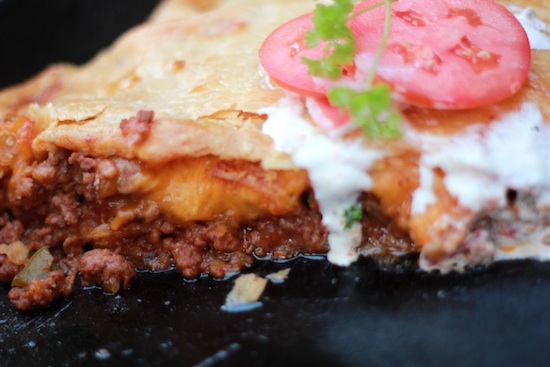 I love to garnish with some tomatoes, sour cream and parsley.
This pie takes up a lot of the precious belly space so save up some room if you know you are going to be eating this! There's nothing worse than having a heavenly piece of food in front of you and having to admit to yourself you can't fit in another bite because you ate too much cereal or something else really boring a couple hours prior.
OK now sit back somewhere real comfy and enjoy. Really, just eat this on the couch or in bed so when you finish you can roll right over and pass out. It's that good.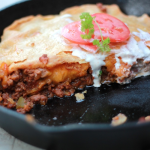 Sloppy Joe Cheddar Pie
2014-11-17 08:53:54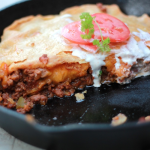 Serves 5
A hearty, meaty and cheesy pie packed with flavor
Nutrition Facts
Amount Per Serving
* Percent Daily Values are based on a 2,000 calorie diet. Your Daily Values may be higher or lower depending on your calorie needs.
Ingredients
1 pound ground beef 80/20
1 tbsp olive oil
1 sweet onion
2 cloves garlic minced
1 red bell pepper
1/4 cup brown sugar
1 tbsp Worcestershire sauce
1 tablespoon red wine vinegar
1 tsp chili powder
pinch of cayenne pepper (optional)
salt and ground black paper to taste
1 can crushed tomatoes
2 cups extra sharp cheddar cheese
For the crust
I used a pillsbury store bought crust. You need 2 9" pieces of dough. Please substitute in your favorite pie crust recipe if you desire.
Garnish (Optional)
Chopped tomatoes
Sour Cream
Parsley
Instructions
Add olive oil to heated skillet and begin to brown the beef. Spread it out evenly in the pan.
While the beef it beginning to brown, add the brown sugar, cayenne and chili powder and mix into the beef.
When the meat is browned on the outside, add in the onions, pepper and garlic. Let the onions and pepper cook a bit until slightly softened.
Add tomato sauce, Worcestershire sauce, vinegar. Mix into beef and onion mixture.
Reduce heat to low and let cook down. Continue to cook until most of the liquid has evaporated.
Add salt and pepper to taste.
Cover bottom of a cast iron skillet or pie dish in with a layer of your pie crust. Spoon in the beef mixture.
Add the 2 cups of cheddar on top of the beef.
Add second layer of pie crust on top of the beef and cheese and pinch at the ends so it joins up with the bottom layer of pie crust.
Make a few slits with a knife into the top layer of crust.
Bake at 350 degrees for about 45 minutes or until top is a nice golden brown.
Garnish with some chopped tomatoes, sour cream and parsley.
Notes
You can try a healthier version of this using ground turkey and a low-fat cheese.
Adapted from Inspired by a recipe from Hispanic Kitchen
Simply Yum http://www.simplyyum.com/