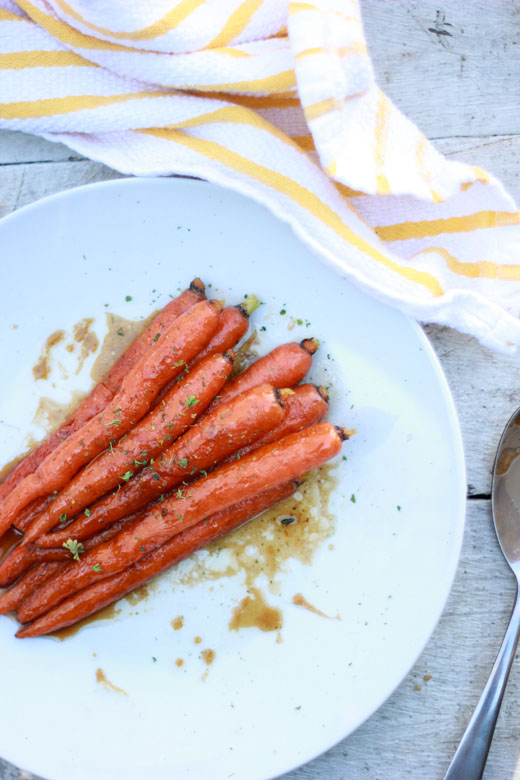 I'm less than two days away from hosting my fourth Thanksgiving. It's probably the most grown up thing I do. It also means I'm two days away from being panicked running around my kitchen cursing lack of counter space and decent serving bowls. But this year will be different because I promised myself I would simplify. No one should have to experience kitchen rage on Thanksgiving.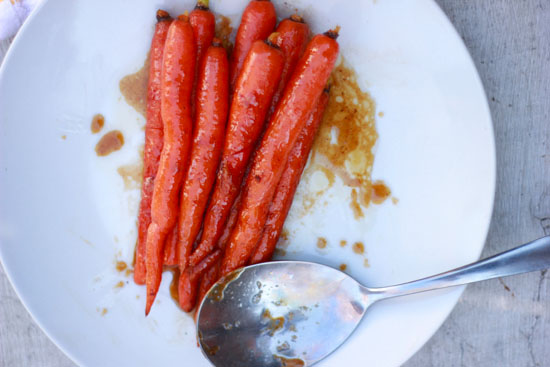 So my Thanksgiving lineup is sausage stuffing, mashed potatoes, squash, this cranberry sauce, beer glazed carrots and of course the turkey. This dish is a keeper because it only takes about 15 minutes from start to finish and yields a delicious result. And the ingredients are so basic most people always have them on hand so you might be able to make without even having to go to the store. And that is a gift because who wants to be anywhere near a food store from now until Thursday.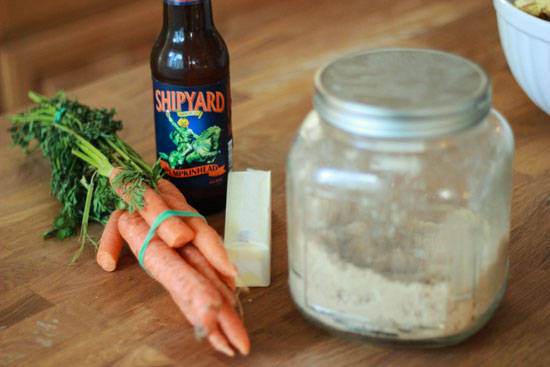 I'm not even a big fan of cooked carrots but I love these. I used a pumpkin beer because that's all I had in my fridge and I thought the sweetness would go nicely but you could use any full bodied beer.
I keep the carrots whole because I like the presentation of the entire carrots laid out on a platter but you could also cut them into coin sized pieces before you cook them.
First prepare your carrots by washing and either slicing them up into coin sized pieces or leaving them whole but removing the greens and snipping the tip. If you keep them whole you should use baby carrots. They are slightly smaller and will cook up better in the pan.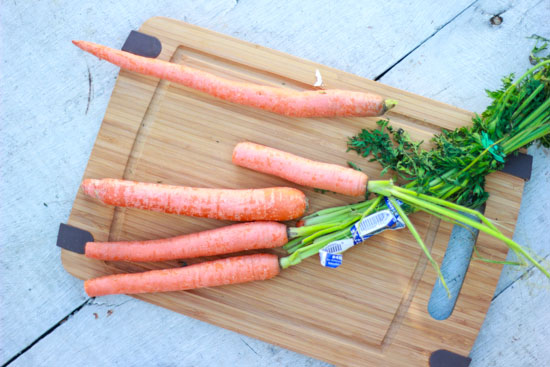 Melt butter in the pan and evenly spread out the carrots. Sprinkle with salt.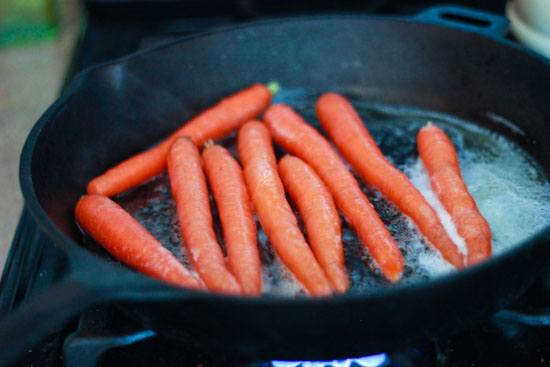 Cook over medium high heat for about 5 minutes or until they get a nice brown color. Remove the carrots and set aside.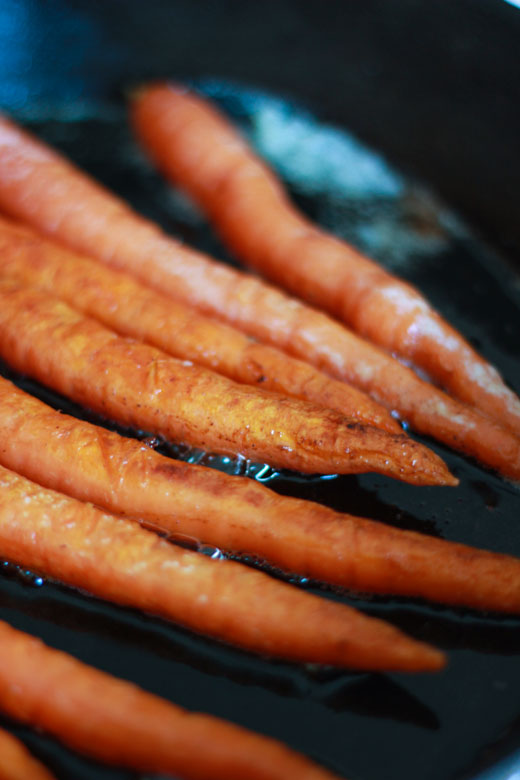 Add in the beer, cinnamon, vinegar and brown sugar. Stir and bring to a boil then reduce to a simmer.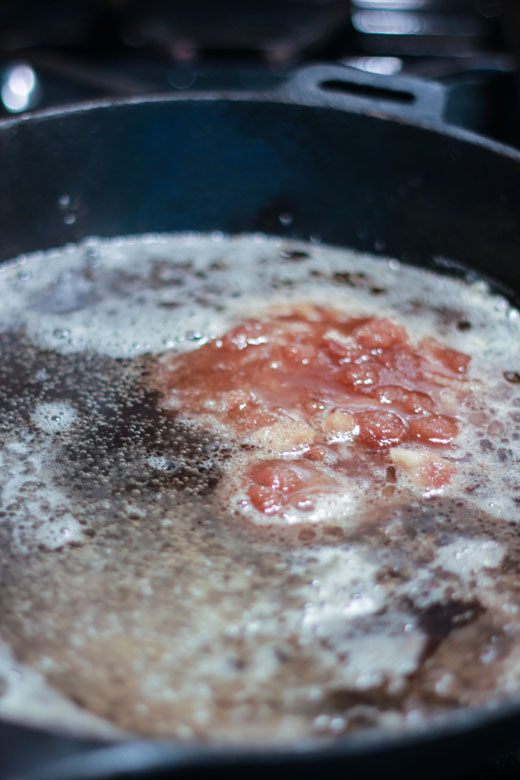 After a few minutes the glaze should start to thicken and be a little goopy.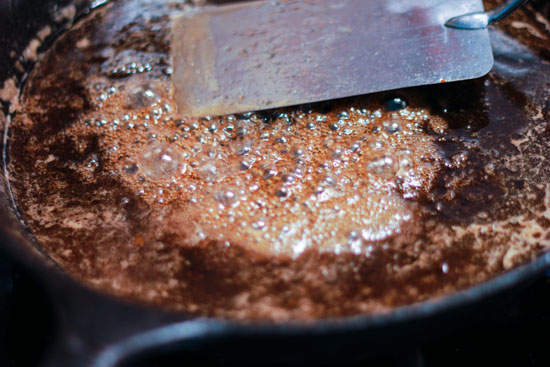 Add the carrots back in and cook for another 5-8 minutes or until the carrots are tender. Be careful when you toss the carrots back in or else risk being splashed by some scalding hot beer glaze. Place them back in carefully. You may be able to tell from the below photo what happened to me.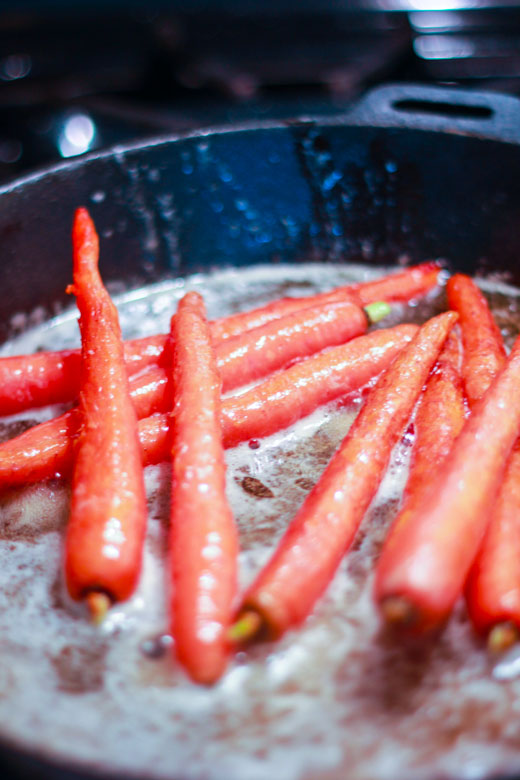 Plate them and garnish with some parsley! Happy Thanksgiving everyone!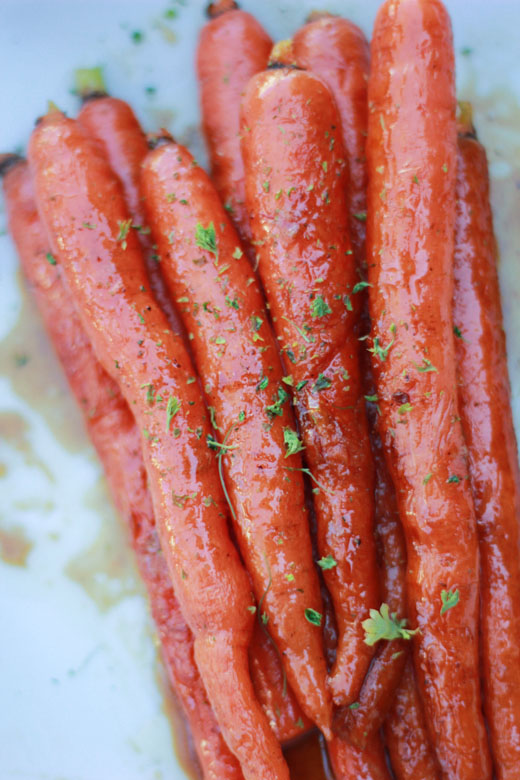 Beer Glazed Carrots
2014-11-25 06:55:56
Serves 6
Carrots covered in a sweet, cinnamon glaze.
Nutrition Facts
Amount Per Serving
* Percent Daily Values are based on a 2,000 calorie diet. Your Daily Values may be higher or lower depending on your calorie needs.
Ingredients
2 bunches of small carrots of 3 cups of sliced carrots
1 cup beer
1/2 stick butter
1/4 cup brown sugar
2 tsp balsamic vinegar
1/4 teaspoon cinnamon
salt to taste
parsley to garnish (optional)
Instructions
Cut greens and tips off your carrots if you are using the whole carrot. Otherwise slice up your carrots.
Add butter to a heated skillet.
Add carrots and spread evenly in pan. Sprinkle with salt.
Cook them for about 5 minutes or until they develop a brown color.
Remove carrots from pan and set aside.
Add in beer, brown sugar, balsamic and cinnamon. Stir.
Bring to a boil and then reduce so it is simmering.
Add carrots back to pan.
Cook covered for about 5-8 minutes or until carrots are fork tender.
Plate the carrots and drizzle remaining glaze over them.
Garnish with parsley. (optional)
Adapted from Pioneer Woman's Whiskey Glazed Carrots
Simply Yum http://www.simplyyum.com/