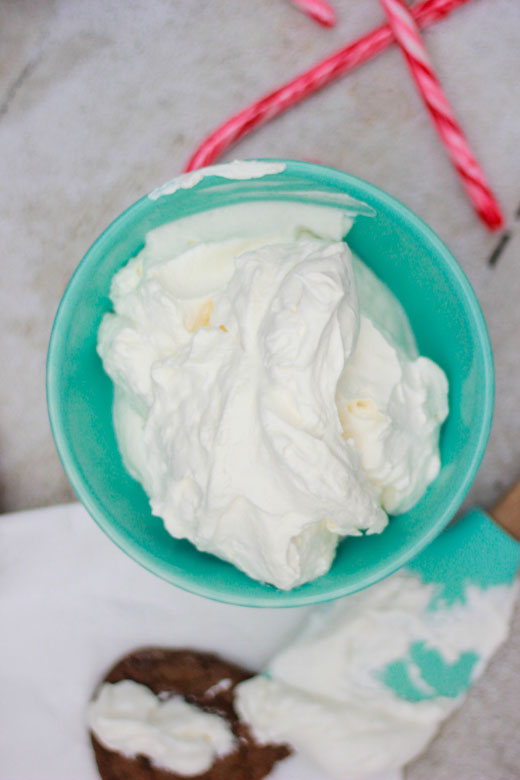 What's your biggest indulgence during the holiday season? I have so many but one of my favorites is whipped cream. I love adding whipped cream to my food and drinks. I think it makes everything so festive. I add it to hot chocolate, kahlua/baileys and my coffee. I put it on cookies/cakes, fruits and I occassionally just spoon the cream into my mouth.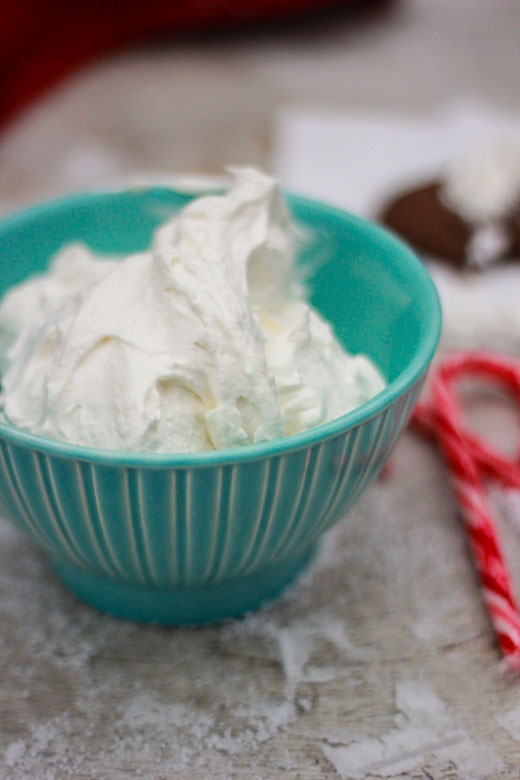 Sometimes I fantasize about being in an enormous pool full of whipped cream with chocolate shavings sprinkled on the top.
Don't you just want to jump in that bowl? It's like a big fluffy white cloud.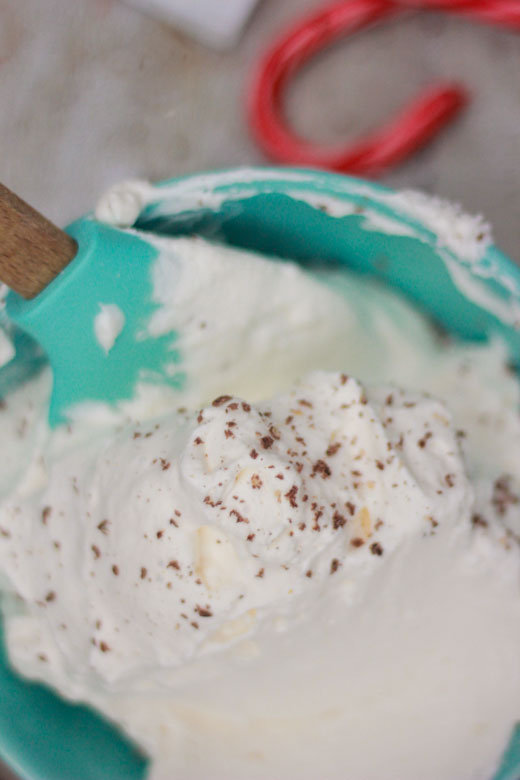 If I'm going to be an all out glutton with the whipped cream I like it to be fresh. Luckily, making whipped cream is super easy and quick.
You can make a fresh batch of homemade whipped cream in only a couple of minutes. All you need is heavy cream, confectioner's sugar and vanilla. I've been out of vanilla in many instances and just use the cream and sugar and it's fine, the vanilla does give it a slightly better flavor though. You could also replace the vanilla extract with almond extract or peppermint extract for various flavors.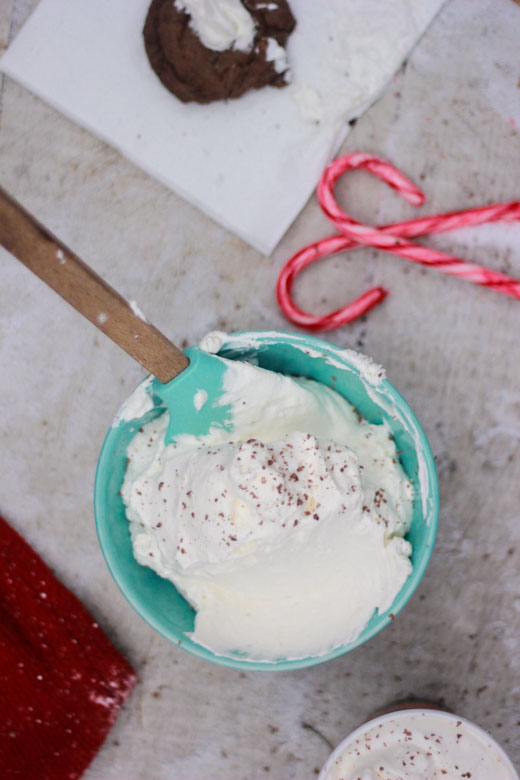 My favorite way to have the whipped cream, other than straight from a bowl, is with a side of hot chocolate. I love tasting the coolness of the whipped cream with little pockets of chocolately heat from the hot cocoa.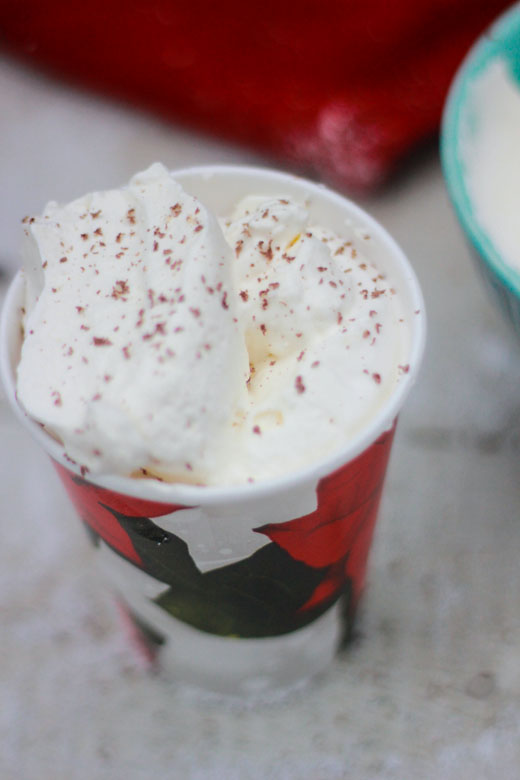 Another plus of making your own whipped cream is you can control how sweet you like it. I don't like mine too sweet so I only add 1/4 cup of confectioner's sugar. You can start with that and then taste it and keep adding more until you reach your desired sweetness.
Ok now a bit of information on the method. So the easiest way is to use a kitchen aid stand mixer or a hand held mixer and whip the cream as fast as possible for a couple minutes until it begins to form stiff peaks and look thick like whipped cream. If you don't have either of these but you must have whipped cream there's still hope! You need a bit of energy for this and you could probably classify it as a workout but you can do it by hand with a whisk. It takes longer and you will definitely have a burning sore arm after but you will have a bowl of delicious whipped cream so it evens out.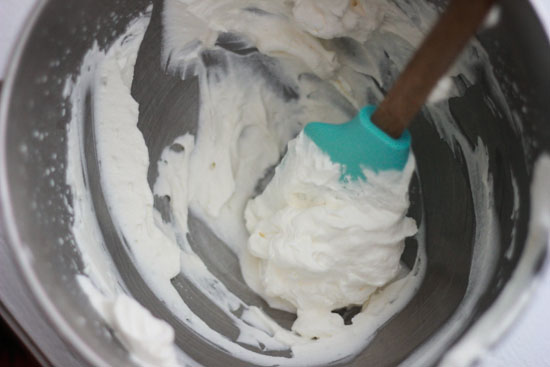 Whichever method you choose, make sure the cream is chilled. A chilled bowl and whisk if you are using one, is also helpful. Chilled cream whips up faster and sometimes warm equipment can lower the temperature of the cream. I put the bowl and cream in the freezer for a few minutes before I mix. You get better, faster results this way because it's the fat content of the cream that allows it become fluffy. When you whip it, tiny air bubbles form and the fat molecules surounding these bubbles are what protects them from breaking. If the fat is too warm it becomes soft and is not as effective in protecting the air bubbles.
Once your cream thickens add in the sugar and vanilla and mix it on low just until its incorporated.
Then it's time for my favorite part of making whipped cream. Pre-cleaning the whisk.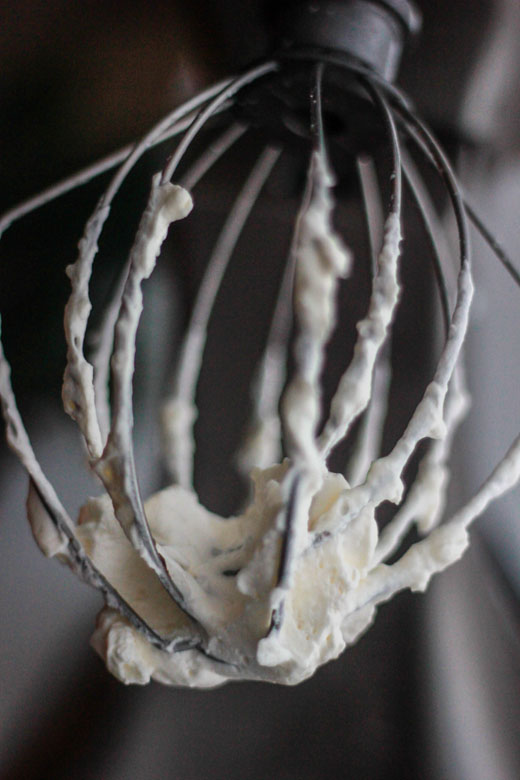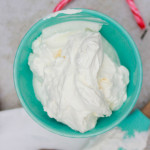 Homemade Whipped Cream
2014-12-10 13:11:33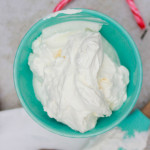 Fluffy, sweet delicious whipped cream.
Nutrition Facts
Amount Per Serving
* Percent Daily Values are based on a 2,000 calorie diet. Your Daily Values may be higher or lower depending on your calorie needs.
Ingredients
2 cups heavy cream or heavy whipping cream
1/4 cup confectioner's sugar (or more if you like it sweeter)
1 tsp. vanilla (you can replace the vanilla with other extracts i.e. almond or peppermint)
Instructions
Add chilled cream to the bowl of a mixer. Beat on highest speed for a couple minutes and until stiff peaks begin to form. You will know when it's done because it will look just like thick fluffy whipped cream.
Add the sugar and vanilla.
Mix on low until incorporated.
At this point you may want to taste it and see if it's sweet enough for you. If not, add in another 1/4 cup of confectioner's sugar and taste again. Repeat until you reach your desired sweetness.
Notes
Don't try to make whipped cream with light cream or any milk. The fat content is not high enough and you could whip it for hours and it still will not become whipped cream.
Simply Yum http://www.simplyyum.com/