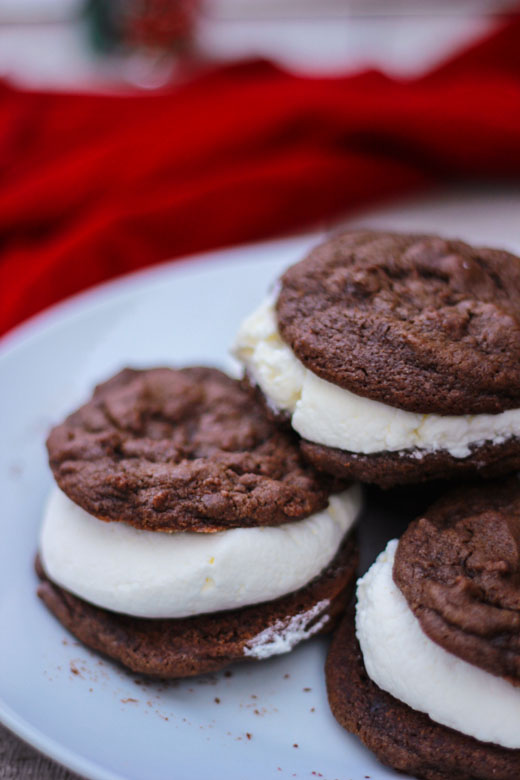 So I am cramming in a blog post while sitting between piles of unwrapped gifts and with a small shopping list staring at me from the coffee table. I can just never seem to get all my shopping down without having to run to a mall in the couple days before Christmas. No matter how early I start I cannot escape the curse of last minute gifts!
So just for a bit-I am going ignore all my holiday to-do's and dream about biting into one of these cream filled chocolate cake cookie sandwiches. They're easier to make than they may seem and if you get sick of baking before you get to the cream filling part it's fine because you'll still be left with an amazing batch of cookies. But if you have the time and the will to continue to the cream filling portion of the recipe it's well worth it!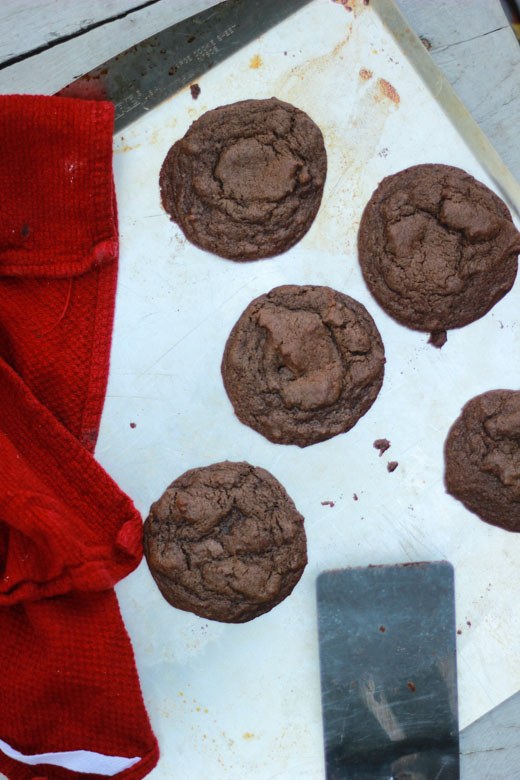 If a little raw egg doesn't scare you I would definitely take a taste of the cookie dough. It's my favorite cookie dough to eat! I probably eat at least 4 cookies worth of dough each time I make these. I truly cannot control myself. Quick story – one time I barely had any cookies go into the oven because I had eaten so much of the dough. Then I had to sheepishly bring a half tray of cookies to my parents for dinner topped off with a belly ache. Oops, definitely not a high point.
If you actually have cookies that make it into the oven, once they are cooling, start on the whipped cream. Recipe here.
I could also tell you a story of how I ate most of the cream and left myself with only enough to make 3 cream filled cookie sandwiches and so I kept those 3 for myself and just brought the leftover plain cookies to a party, but it might make me sound like a pig so I won't.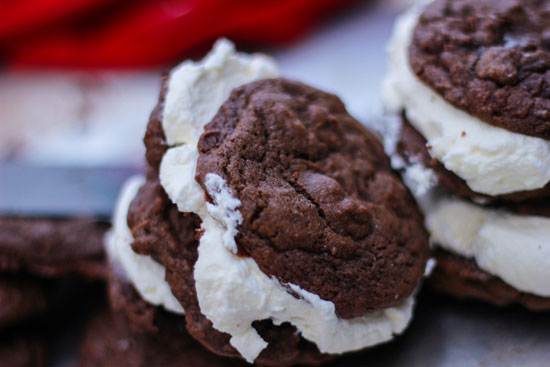 There are 2 ways to fill your cookie cakes. Either just spoon a bunch of whipped cream onto one of the cookies and then top with second cookie. Or if you prefer a smoother look to your cream put it in a piping bag or in a regular plastic ziplock bag with the tip cut off. Then squirt the cream out using a circular motion and place the other half on top.
Sprinkle the sides with some holiday sprinkles or you could roll in coconut, mini chocolate chips or nuts. Hope you enjoy these (raw or cooked) as much as I do!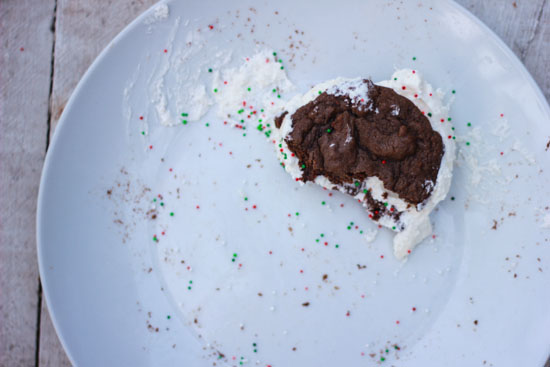 Happy Holidays!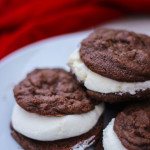 Cream Filled Chocolate Cake Cookies
2014-12-21 13:56:42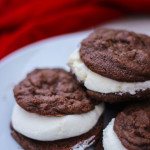 Deliciously fluffy cake like chocolate cookie sandwiches with a whipped cream filling
Nutrition Facts
Amount Per Serving
* Percent Daily Values are based on a 2,000 calorie diet. Your Daily Values may be higher or lower depending on your calorie needs.
Ingredients
For the Cookie
2 softened sticks butter
1 cup light brown sugar
1 cup granulated white sugar
2 teaspoons vanilla extract
2 large eggs, beaten
2 1/4 cups all-purpose flour
1/2 cup unsweetened cocoa powder
1 teaspoon baking soda
Pinch salt
1/2 cup semisweet chocolate chips
For the whipped cream
2 cups heavy or whipping cream (chilled)
1/4 cup confectioner's sugar (or more depending on how sweet you want your cream)
1 tsp vanilla extract
You can view a separate post on homemade whipped cream here -- > http://www.simplyyum.com/2014/12/10/homemade-whipped-cream/
Instructions
Preheat oven to 375.
Add the softened butter, brown sugar, white sugar, beaten eggs and vanilla to a bowl of a stand mixer. Mix on low until the butter is creamed and incorporated into the sugar.
In a separate bowl combine the remaining ingredients (except for the chocolate chips). Mix well using a whisk so all the flour and cocoa powder are evenly distributed.
Put your mixer on low and slowly pour the flour/cocoa mix into the butter/sugar mixture. Mix on low just enough so that everything is combined. Do not over mix.
Stir chocolate chips into dough.
Drop dough by the tablespoon full onto baking sheet. You should be able to fit about 10 on a sheet.
Bake for about 8-10 minutes. Let cool completely.
Once cool spoon or pipe the whipped cream (about 2 tablespoons) onto one flat side of a cookie and top with a second cookie.
To make the whipped cream
Add chilled cream to the bowl of a mixer. Beat on highest speed for a couple minutes and until stiff peaks begin to form. You will know when it's done because it will look just like thick fluffy whipped cream.
Add the sugar and vanilla.
Mix on low until incorporated.
At this point you may want to taste it and see if it's sweet enough for you. If not, add in another 1/4 cup of confectioner's sugar and taste again. Repeat until you reach your desired sweetness.
Adapted from Sunny Anderson's German Chocolate Cake Cookies
Simply Yum http://www.simplyyum.com/