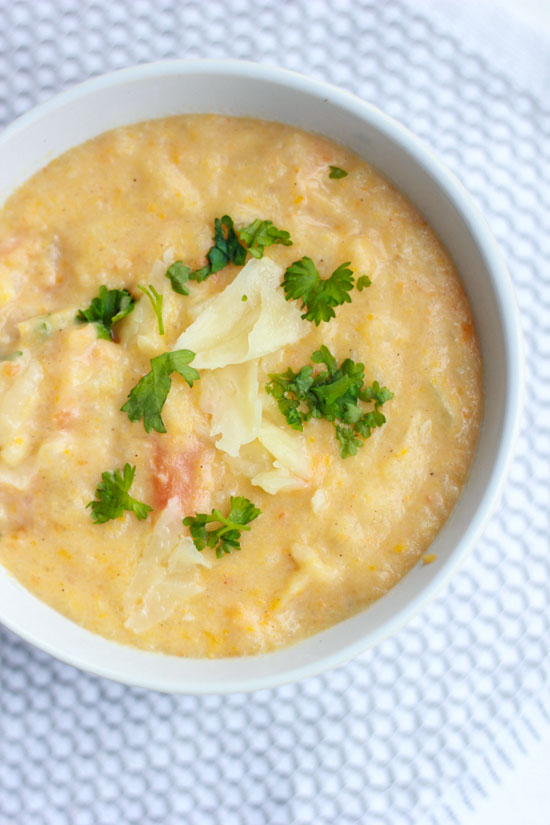 A couple days ago we had a blizzard and I spent the day doing a little relaxing, a lot of cooking and a tiny bit of shoveling.
Being snowed in during a blizzard just begs for a bowlful of soup. And nothing is more comforting than a bowl of creamy, cheesy potato soup. Except if you eat the soup while wearing the super comfy socks your friend gave you for Christmas (thanks Mel!) while wrapped in a cozy knit blanket. When I buy socks now I ask myself if they would be good socks to eat potato soup in. And if so then I buy them. Kidding!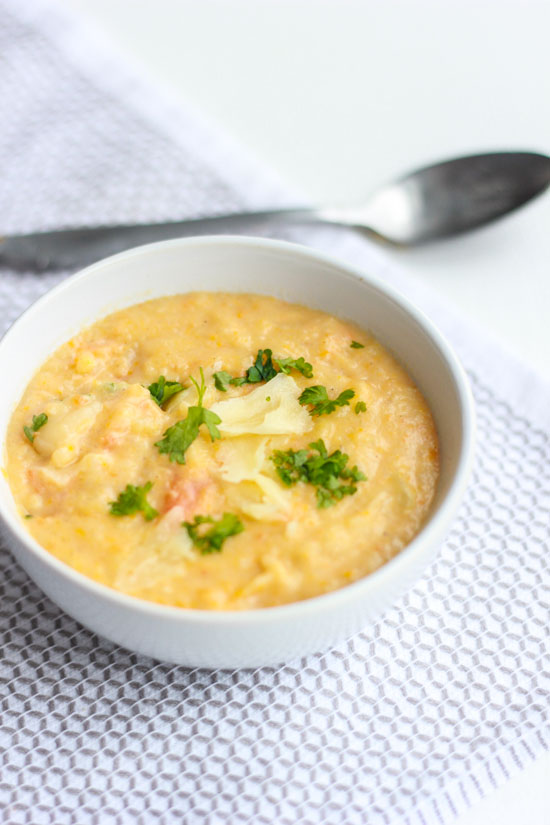 So pull out your fave socks and coziest blankets and get ready to feel all types of comfort.
You make this soup all in one pan. I like using a mix of both regular and sweet potatoes but you could change up the ratio to your liking. It's not quite as easy as just dumping everything in the pan and watching it cook, but almost.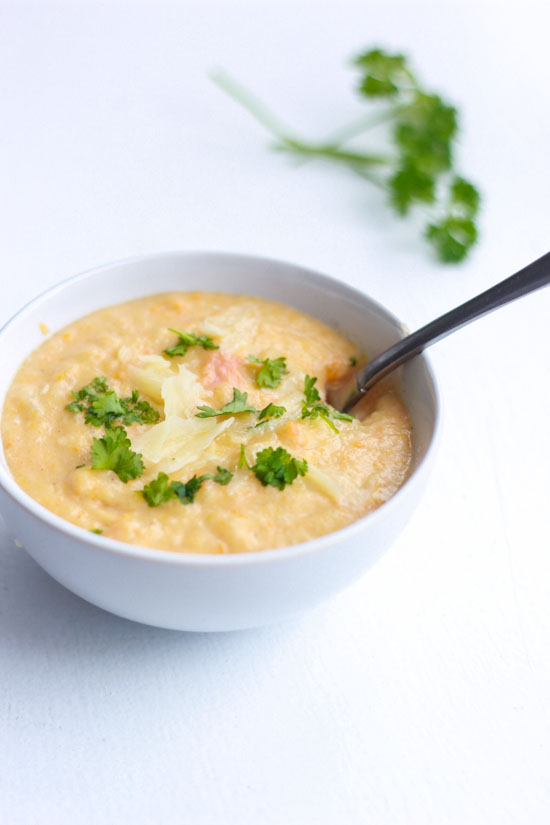 Start off by making a quick roux to give the soup a thicker consistency. A roux is just a mixture of flour and a fat, in this case butter.
Then sautee the onions for a couple minutes, throw in the stock, potatoes, carrots, milk, cinnamon and bay leaf. Cook up for a bit, then stir in my two favorite ingredients: heavy cream and cheddar cheese.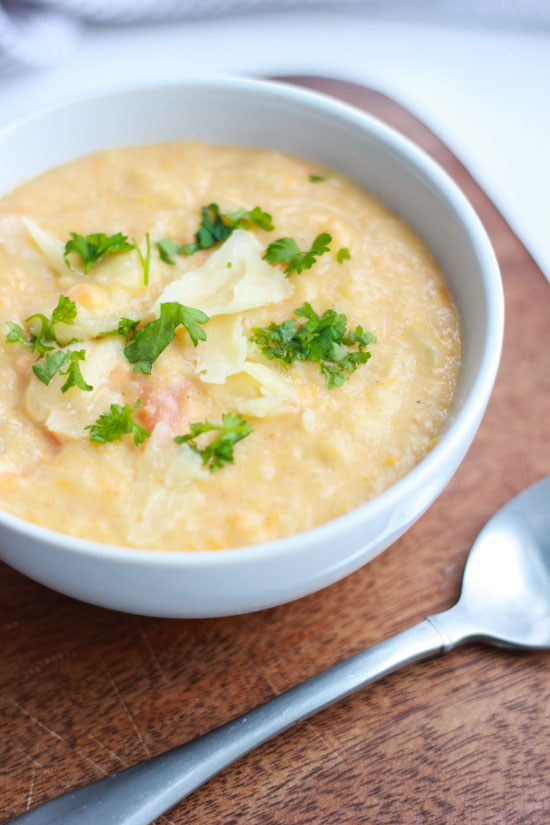 Once it's done I puree using an immersion blender. You can use a regular blender but you will probably have to do the soup in a couple batches. I like to puree it so it's almost smooth but still slightly chunky.
Garnish with a lot of cheese and parsley.
Get on your comfy socks and enjoy!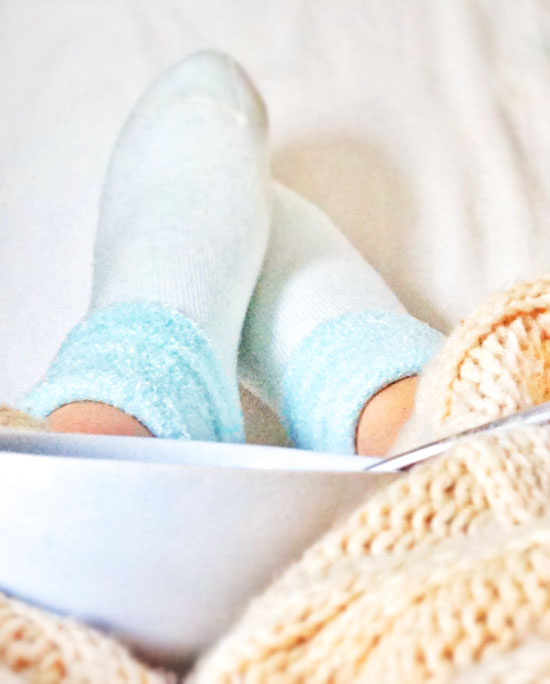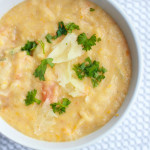 Easy Cheesy Potato Soup
2015-01-29 10:19:28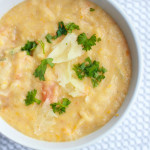 Serves 4
Thick, creamy potato soup swirling with cheddar cheese.
Nutrition Facts
Amount Per Serving
* Percent Daily Values are based on a 2,000 calorie diet. Your Daily Values may be higher or lower depending on your calorie needs.
Ingredients
4 medium white potatoes (diced and seasoned with salt and pepper)
2 medium sweet potatoes (diced and seasoned with salt and pepper)
3 cups chicken stock
1/4 cup flour
3 tbsp butter
1 medium onion (chopped)
2 carrots (diced)
1 cup milk
1/2 cup heavy cream
1 cup shredded cheddar cheese
1 tsp cinnamon
1 bay leaf
salt and pepper to taste
Instructions
Add butter to stockpot over medium-high heat.
Add in onions and sauté for a minute.
Pour flour over the onions and sauté for another two minutes.
Add in the stock, milk, potatoes, carrots, bay leaf and cinnamon. Season lightly with salt and pepper.
Stir and cook until it is right about to boil. Then turn it down to medium-low so it is simmering. Cover and let cook for about 10-15 minutes or until the potatoes are fork tender.
Stir in the cream and the cheese. Taste and season with more salt and pepper if necessary.
Optional: Puree the soup using an immersion blender or a regular blender to the desired consistency.
Notes
This is a great soup to play around with the toppings. Crumbled bacon bits, sour cream, chives and cheese are all delicious with this soup.
You can use all white potatoes or all sweet potatoes for this recipe or any combination of the two you want.
Adapted from Adapted from Gimme Some Oven's Potato Soup
Simply Yum http://www.simplyyum.com/