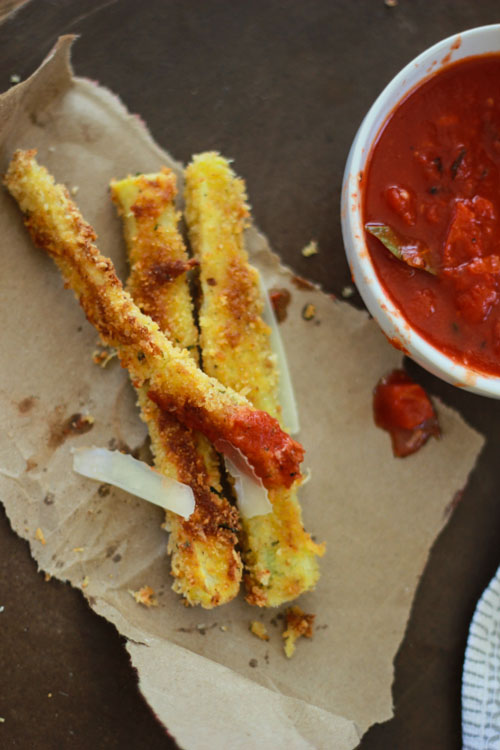 Today was one of those mornings I sleepily crawled back in my bed when Maya went down for her nap. Most often I use that time to work or clean myself and the house but today the sheets looked perfectly and comfortably crumpled as the sunlight peeked through my blinds, beautifully lighting up my pillow calling my head to that sunny place. I fell asleep instantly and was in that zone when you come in and out of the nap but blissfully fall back to sleep as you snuggle deeper into the bed.
A nap can be a beautiful thing.
Zucchini can be a beautiful thing.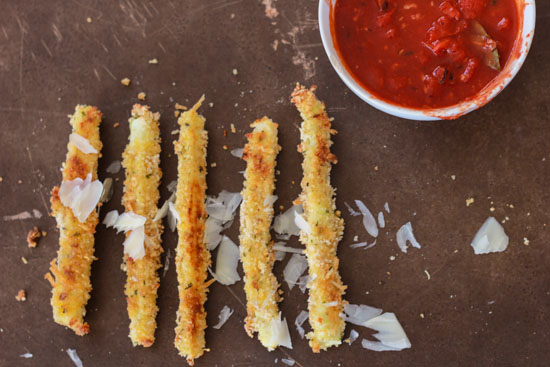 Breaded and baked and paired with a delicious dipping sauce zucchini can take on a whole new identity.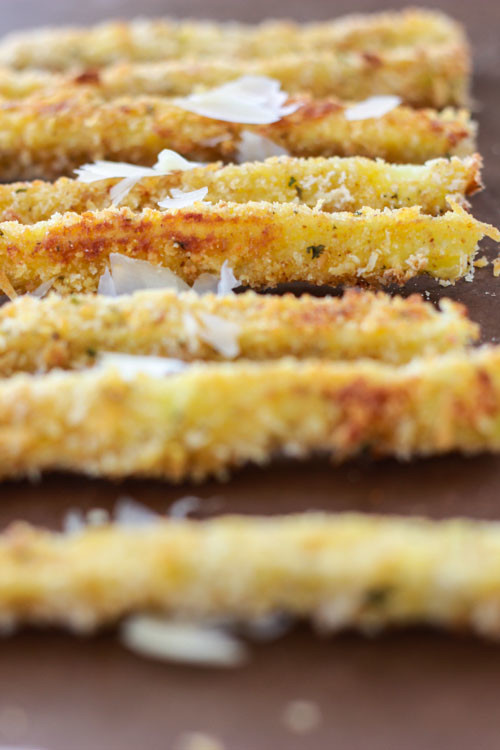 Trying to eat healthy is often challenging, I often eat whatever I can get my hands on quickly and am just grateful for that leftover slice of pizza in the fridge. In an effort to snack healthier, lately I've been munching these baked zucchini sticks. They are delicious, satisfying and healthy. And my little one likes nibbling these up too.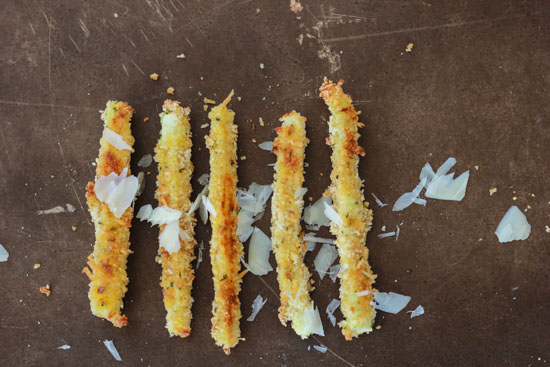 The key to very tasty zucchini sticks is lightly seasoning with salt and pepper the bare sliced zucchini, the egg wash and the flour. Take great care in the breading of them. I use a brush to paint on a thin layer of egg after lightly rolling in flour being very careful to cover the entire thing. There are always some breadcrumbs that slip off but you want to minimize this by taking your time in this process.
Drizzle a bit of olive oil over all the zucchini sticks and then bake. Once they're cooked I like to shred some big hunks of parmesan over them and serve with a marinara dipping sauce.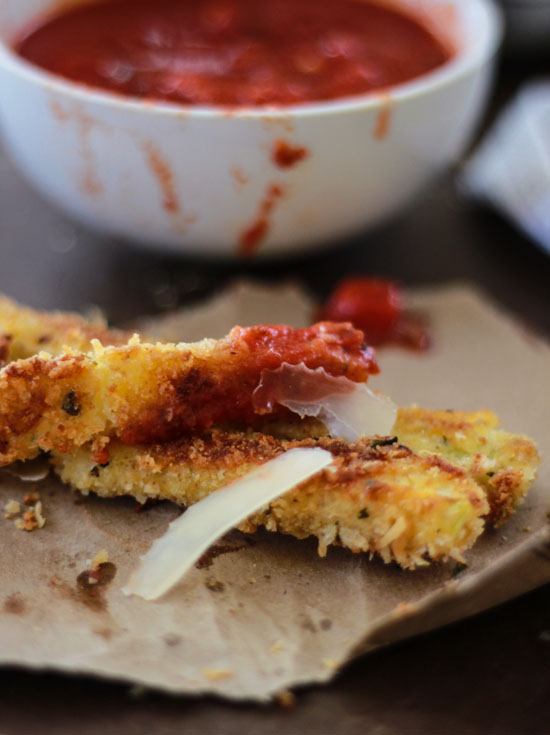 Eat while they are warm!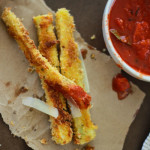 Baked Zucchini Sticks with Marinara Dipping Sauce
2015-02-12 12:20:57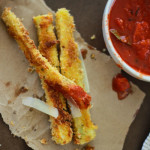 Serves 4
Nutrition Facts
Amount Per Serving
* Percent Daily Values are based on a 2,000 calorie diet. Your Daily Values may be higher or lower depending on your calorie needs.
Ingredients
FOR THE ZUCCHINI
4 medium zucchinis (peeled and cut into 1/2" thick slices)
1/2 cup panko breadcrumbs
1/2 cup seasoned breadcrumbs
1/4 cup parmesan cheese
salt and pepper to taste
1 egg
1/4 cup flour
FOR MARINARA DIPPING SAUCE
1 28 oz. can crushed tomatoes
1 clove garlic
1 tbsp olive oil
1 bay leaf
1 tbsp basil (preferably fresh)
salt and pepper
Bake 15 mins at 350
Instructions
FOR THE ZUCCHINI
Season the peeled and cut zucchini with salt and pepper.
Place flour in a wide bowl or flat plate and season with salt and pepper.
Mix egg in a bowl and lightly season with salt and pepper.
Mix breadcrumbs and parmesan cheese together and put on a flat plate.
Quickly toss the zucchini in flour and lightly coat.
Using a pastry brush, brush the zucchini with the egg (or just dip zucchini in bowl with egg) covering it evenly in the egg.
Place zucchini in the breadcrumb mixture and coat evenly in the breadcrumb mixture.
Place breaded zucchini sticks on lightly greased baking sheet.
Drizzle them all with olive oil and put in oven.
Bake for 15 minutes or until the breadcrumbs look golden brown and zucchini is tender.
Serve warm.
Garnish with some more parmesan cheese.
FOR MARINARA SAUCE
While the zucchini is baking, start preparing marinara sauce.
Add olive oil to pan and heat over med heat and add one clove of garlic.
Cook garlic for one minute or until fragrant.
Add can of crushed tomatoes, bay leaf, basil .
Season with salt and pepper to taste.
Bring to a simmer and cook for 20-30 minutes uncovered.
Notes
You can use all panko breadcrumbs, all seasoned breadcrumbs instead of half and half. Try whole wheat breadcrumbs for an even healthier version.
Simply Yum http://www.simplyyum.com/