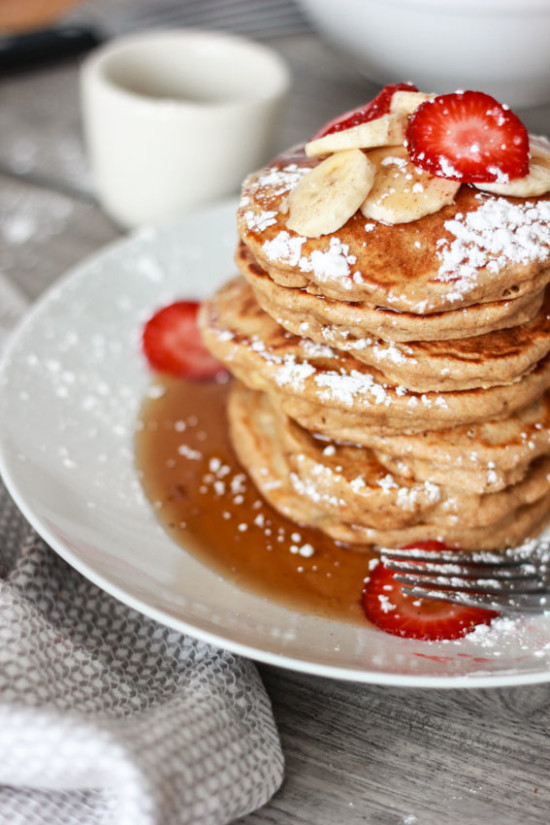 Since I've gotten into food photography, I've been obsessed with tall stacks of fluffy pancakes. I have a fantasy of tucking a napkin in my shirt, shutting my phone off, taking my best fork and digging into my own personal tower of pancakes with syrup oozing down the sides.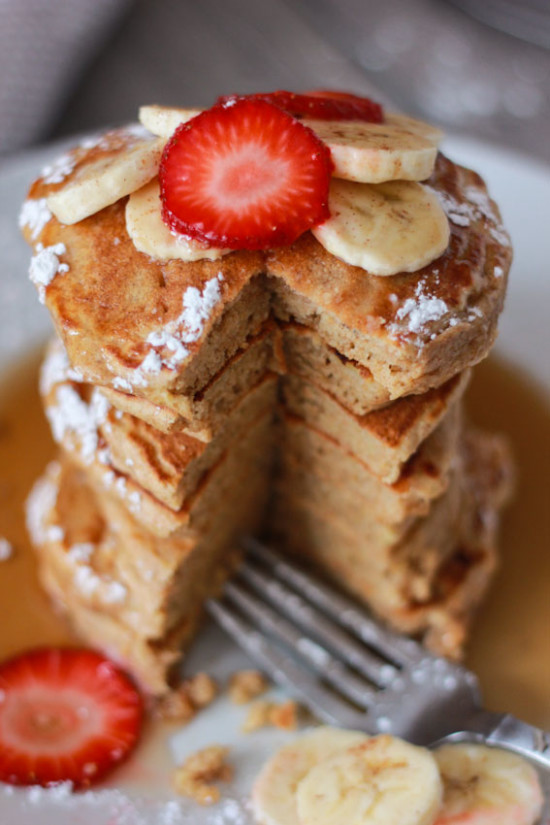 I have attempted to assemble a stack of pancakes many times before. Usually my pancake towers are frankly frightening. Misshapen and wobbly pancake towers no more because I am happy to announce I finally found a recipe that makes the most deliciously fluffy and moist pancake that is perfect for stacking.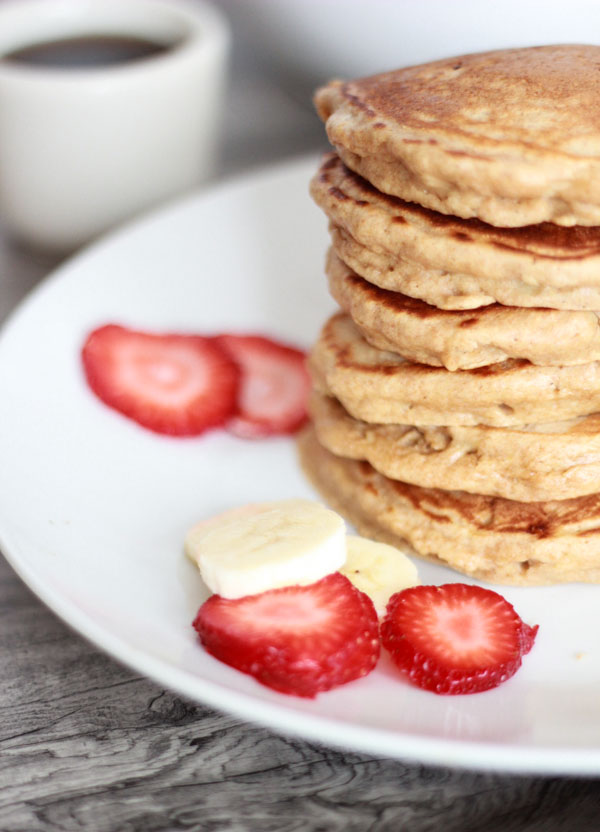 This recipe makes the most delicious whole wheat pancakes without using any sugar, instead they are sweetened with banana and cinnamon.
I drag in the early morning and making pancakes seems daunting but this recipe is quick and easy.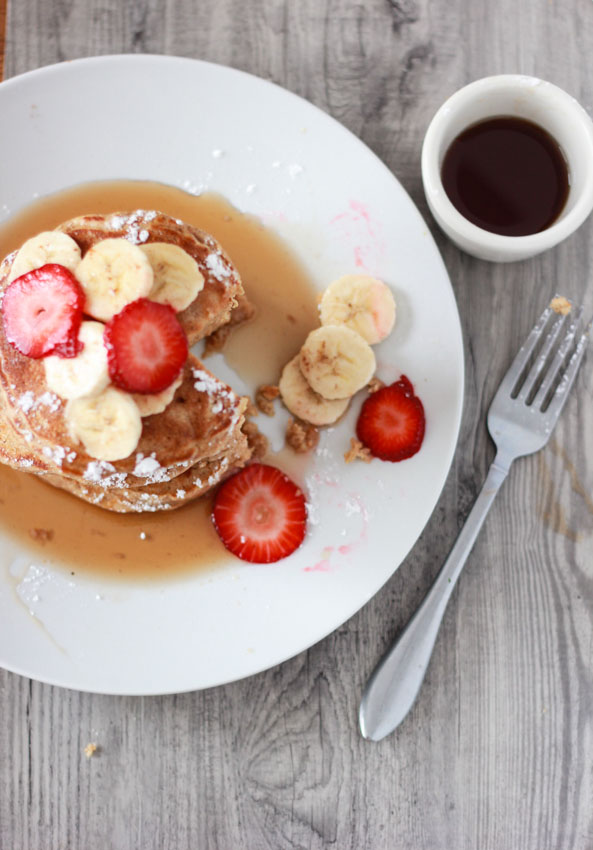 You mix all the dry ingredients together. Mix wet ingredients in a separate bowl. Then combine. That's it!
I use a 1/4 cup measuring cup to make sure each pancake is about the same size when I'm pouring them onto the skillet or griddle. Cook for a couple minutes each side until golden brown. Happy stacking!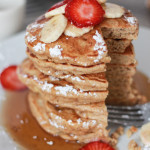 Whole Wheat Banana Pancakes
2015-03-12 09:22:28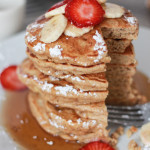 Healthy, moist and fluffy whole wheat pancakes sweetened with banana and cinnamon.
Nutrition Facts
Amount Per Serving
* Percent Daily Values are based on a 2,000 calorie diet. Your Daily Values may be higher or lower depending on your calorie needs.
Ingredients
1 1/2 cups whole wheat flour
2 1/2 teaspoons baking powder
1/2 teaspoon salt
1 tablespoon cinnamon
1 ripe banana
1 cup low fat milk
2 eggs
1/2 teaspoon vanilla extract
3 tablespoons melted unsalted butter
Instructions
Mix whole wheat flour, baking powder, cinnamon and salt in a bowl. Make sure everything is evenly distributed.
In a separate bowl mash the banana. Then add the eggs, milk and vanilla. Stir to combine.
Slowly add the bowl with the liquid ingredients and the melted butter into the bowl with the flour. Stir just until ingredients are all combined. Do not overstir. It will be a bit lumpy.
Heat skillet over medium heat. Once the pan is hot add a pad of unsalted butter and pour 1/4 cup of batter onto pan. Cook for 2 minutes or until you start to see small tiny bubbles and holes. Flip and cook for another 1-2 minutes on the other side until golden brown.
Serve and garnish with sliced bananas, confectioner's sugar.
Notes
You can substitute regular flour for the whole wheat flour.
Adapted from adapted from Once Upon a Chef's banana pancakes
Adapted from adapted from Once Upon a Chef's banana pancakes
Simply Yum http://www.simplyyum.com/