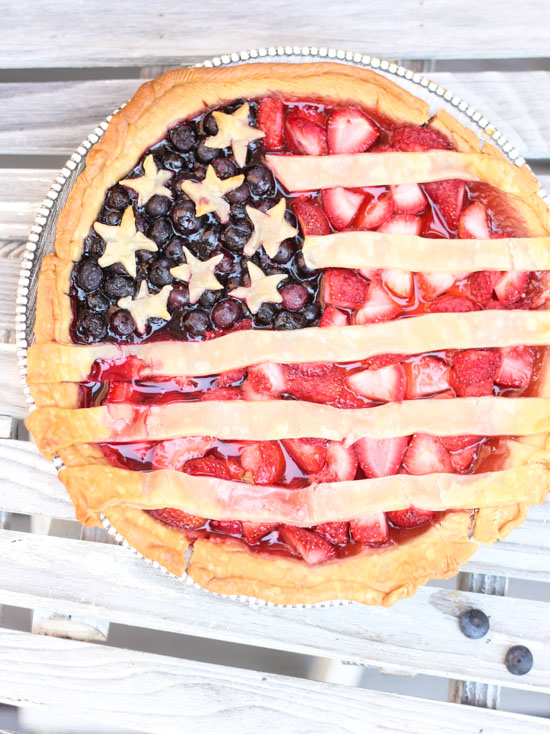 I'm going to keep this post really short. It's the start of the holiday weekend and there's many things you should be doing other than reading this post. Like making this pie. And eating this pie.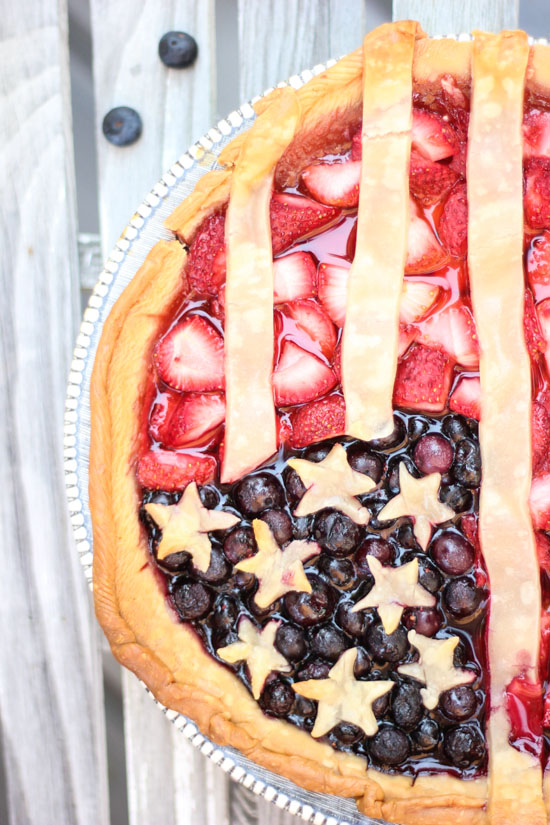 When I saw a picture of this pie from Broma Bakery show up on my Instagram feed I knew I had to make it. I loved the rustic simplicity of it. I couldn't stop staring at it! It conjured up an image of sitting at an old wood picnic bench on a hot summer day with fireworks overhead sharing pie with friends.. That's not how I ate the pie – in reality I enjoyed this pie while my dog and one year old daughter clawed and pulled at my leg. But, nonetheless, still a festive time. My dog was in his patriots bandana.
You might already have your stuff together for the Fourth but if not this pie can be put together quickly and the results are pretty impressive.
First, blind bake the crust. Press your pie crust into a greased glass pan. Then grease it a bit on top, and top with tinfoil and fill with some dried rice and bake for 10 minutes. Blind baking is when you bake the crust without the filling in it. Sometimes the pie crust needs more baking time than the actual filling so you blind bake as to not overcook the filling. The first time I blind baked a crust and found myself filling it with dried lentils I was very confused. Later, I learned the purpose was to prevent the crust from rising and adding dried rice/lentils/beans helps keep the bottom of the crust flat. Your crust ends up a lot crispier this way.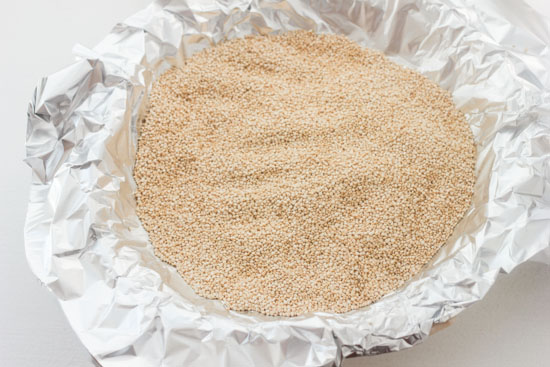 While your crust is baking mix up your berries, sugar, cornstarch, vanilla, salt and lemon juice.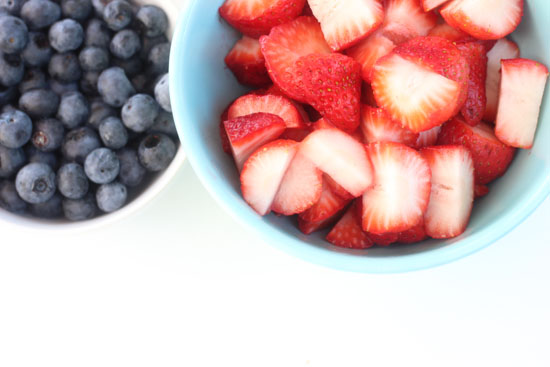 I couldn't resist taking some photos of the colorful fruit.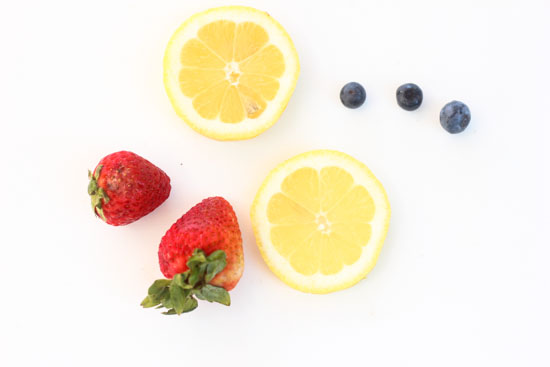 After your berries are mixed and your crust is baked and cooled, separate off the left upper quarter using tinfoil. This is going to be the nice little home for your blueberry mixture. Then pour the strawberries into the remainder of the pie area. This just keeps the pie looking neat and the berries from mixing.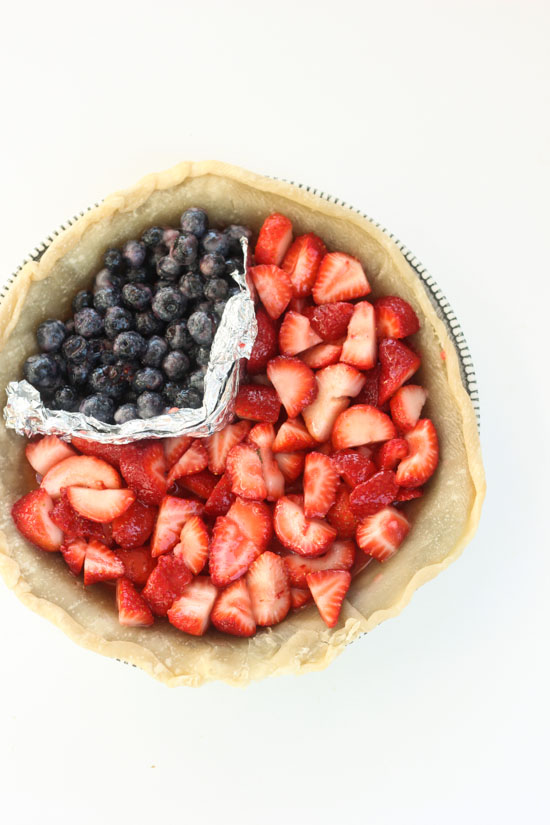 Then cut out your stripes and stars and place on the pie. I realized while doing this that I cannot really draw a star. But imperfection is beautiful, right!? Let your stars be wild. Finally, brush all the crust with some whole milk. Then bake!
Have a happy, healthy and safe Fourth of July!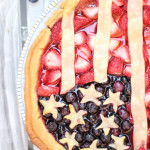 American Pie
2015-07-03 12:21:41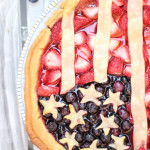 Sweeten your Fourth with this delicious, festive berry pie!
Nutrition Facts
Amount Per Serving
* Percent Daily Values are based on a 2,000 calorie diet. Your Daily Values may be higher or lower depending on your calorie needs.
Ingredients
For the crust
2 store-bought pie crusts
whole milk, for brushing
For the strawberry filling
2 quarts strawberries, quartered
½ cup sugar
2 teaspoons lemon juice
1 teaspoon vanilla extract
2 tablespoons cornstarch
½ teaspoon salt
For the blueberry filling
1 pint blueberries
¼ cup sugar
¾ teaspoon lemon juice
2 teaspoons cornstarch
¼ teaspoon salt
Instructions
1. Preheat oven to 350°F.
2. Blind-baking the pie crust. To do this, grease a glass pie dish and lay out a piece of your pie crust. Pat the crust so it is laying flat and there are no bubbles. Using your fingers to scallop the edges of your crust.
3. Make about 15-20 pokes in the bottom of the crust using a fork(this prevents air bubbles). Grease the inside of the crust and line it with a piece of aluminum foil.
Pour in dried rice/beans/lentils to line the aluminum foil. Bake for 10 minutes, then remove aluminum and rice.
4. While crust is baking prepare your berry fillings. In a large bowl, combine the strawberries, sugar, lemon juice, vanilla extract, cornstarch and salt.
5. In a smaller bowl bowl, combine the blueberries, sugar, lemon juice, cornstarch and salt.
6. Add aluminum foil at 90 degree angle to upper left quarter to create separate areas for your blueberries and strawberries. Pour the blueberries into the upper left quarter and the strawberries into the rest of the pie area. Carefully remove the foil.
7. Roll out your second pie crust. Using a pizza cutter or sharp knife and a ruler, cut three full length 1/2" stripes and two half length 1/2" stripes into your dough. My stripes were about the width of my thumb. Use the remaining dough and cut our your stars using a sharp knife.
8. Place your stars and stripes on the pie and brush the entire crust with whole milk,.
9. Bake for 40 minutes. Allow to cool completely.
Notes
One quart of strawberries is approximately 1.5 pounds.
One pint of blueberries is approximately 3/4 of a pound or 12 oz.
Simply Yum http://www.simplyyum.com/