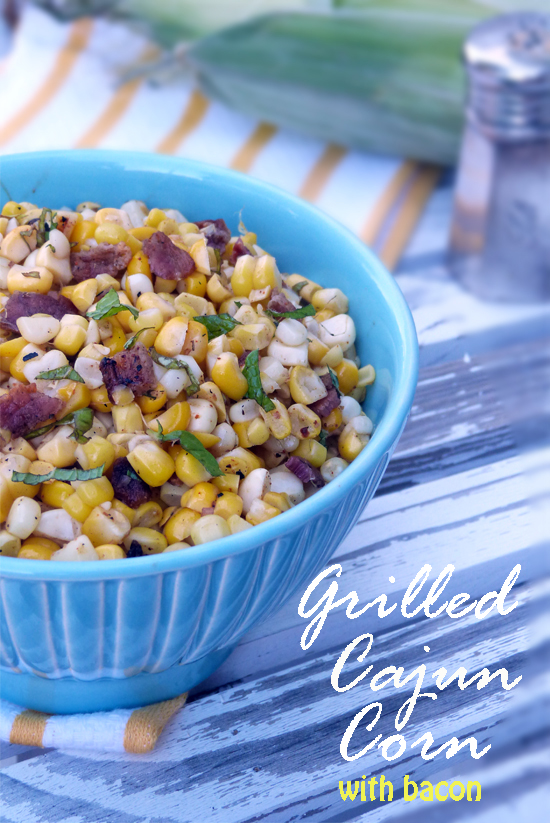 What happens when you add bacon to anything? It automatically becomes delicious! Right?
Take corn. Nothing against it but I don't sit around thinking about the next time I get to have a taste of corn like I do with potato salad, mashed potatoes, hash browns… (I have a potato addiction).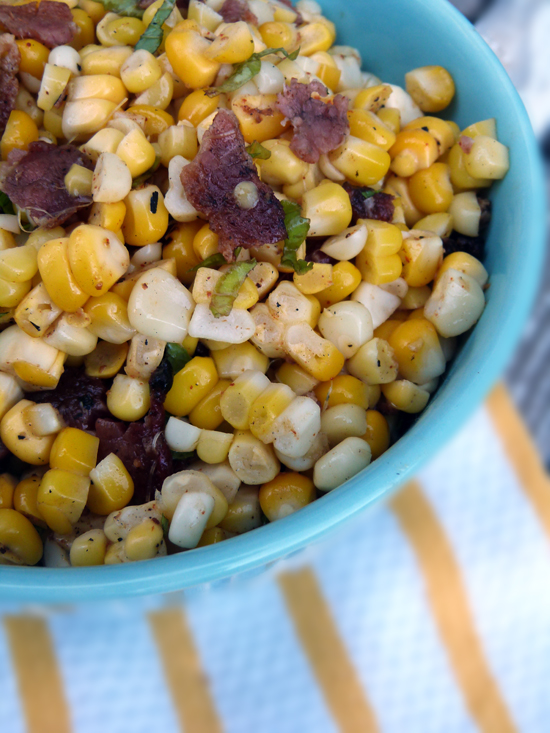 But add some bacon to the corn and now you are in competition. Add some Cajun spice and fresh herbs and you have a simple and delicious dish that's perfect for a summer party.
First you want to shuck the corn (remove the corn hair) and soak in water for 10 minutes.  I just fill up my sink with cold water. This allows the corn kernels to soak up some extra moisture thus softening the husks which allows the grill heat to penetrate to the kernels easier.

Now for the fun part!  I like utilizing the grill as much as possible, I feel it is summery and I like being able to be outside. Ok so it's my husband who always grills, but I get to sit outside and watch instead of being over the stove.
For this recipe, I manned the grill on my own for the first time. Even though only for a couple minutes while Marc showered, I still feel it was the start to a long relationship between the grill and I.
Make sure to cook the bacon on indirect heat or else risk a grease fire.  I usually grill it on the upper rack and have never had a problem.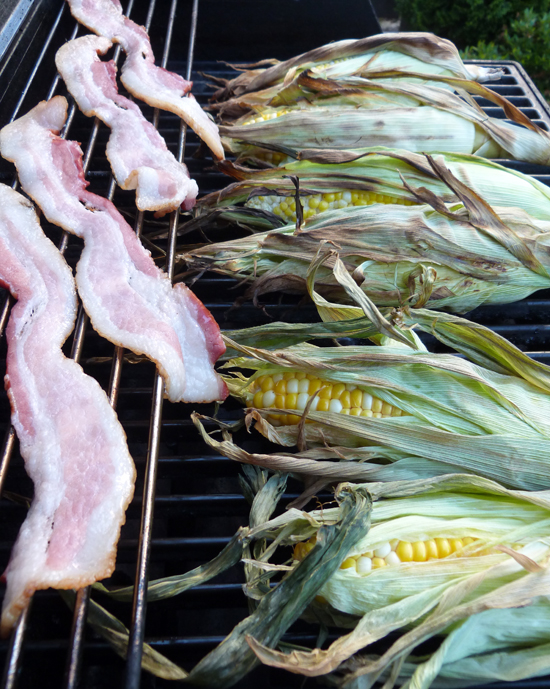 You can be really safe and boring and  make this stove top but why would you when you can grill (or let someone to grill for you) and not have any pans to clean after?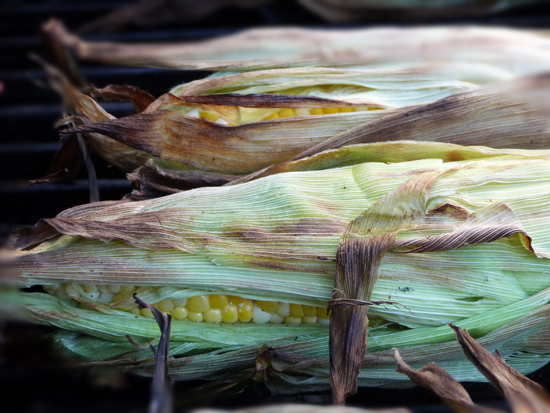 Once grilled it gets really easy from here. Just cut the kernels off the cob and mix with the grilled bacon, spices and herbs.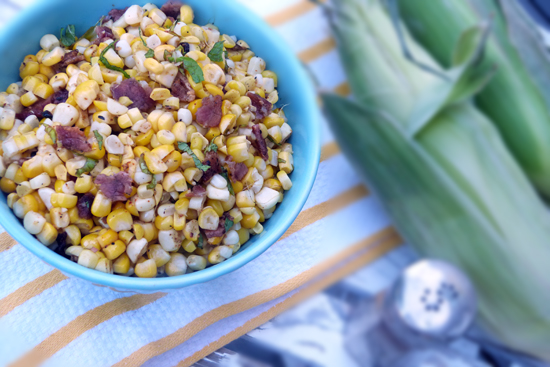 My friend Erica recently invited a group over for a lobster dinner and I thought it was the perfect time to make this. When I picture a lobster dinner I think of light, summery dishes instead of my usual go-to potato or pasta salad sides.
Here's our delicious (and colorful) spread right before we got real messy and covered in lobster juice and butter.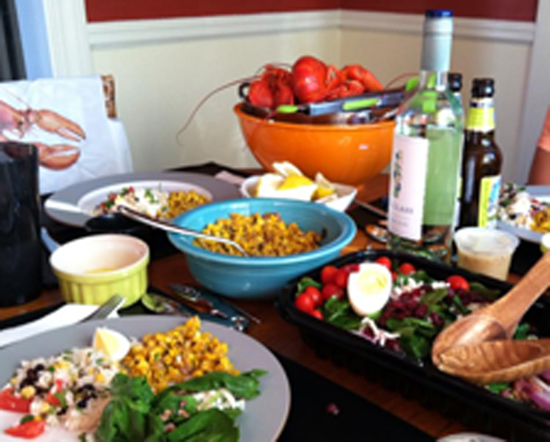 Hope you enjoy this fun, easy summery side dish as much as I do! Let me know what you think if you try it.

Grilled Cajun Corn with Bacon
If you want to use frozen corn, one ear of corn typically equals a ½ cup of frozen corn.
Ingredients
4 ears of corn or 2 cups corn
2 strips bacon
1 teaspoon of unsalted butter
¾ tsp of Cajun seasoning (or you can make your own cajun seasoning with this recipe from the Kitchen Magpie)
2 teaspoons of chopped basil
1 teaspoon of finely chopped mint
Instructions
Husk corn and soak in water for about ten minutes.
Put grill on medium heat and cook corn for about 15-20 minutes. Turn the corn every few minutes and remove once the kernels are fork tender.
At the same time put the bacon strips right on the upper rack of the grill. Cook on one side about 5 minutes then flip and cook until reach desired crispness.
Cut the kernels off the corn and mix in bowl with 1 teaspoon of butter.
Finely chop the bacon and mix into the corn.
Add the

Cajun

seasoning, mint and basil.
Mix and serve warm.