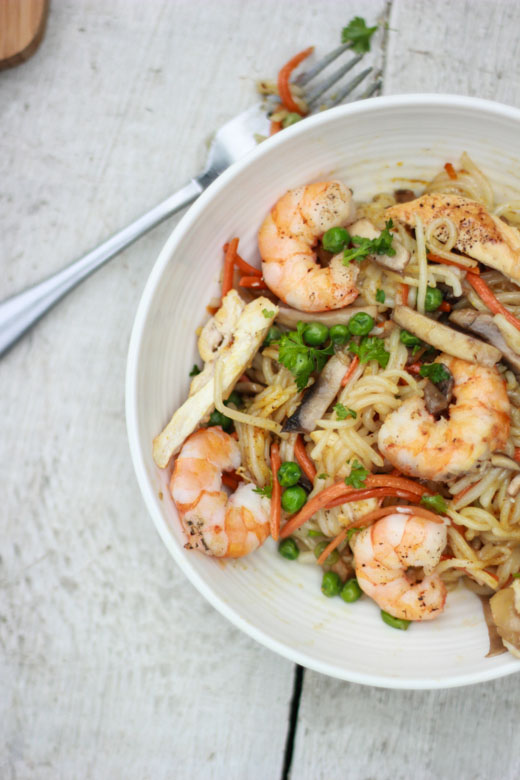 So far in this short year of just 20 days, we've battled 2 stomach bugs, a flu and a cold. I kicked the fun off on New Year's Day by laying motionless in bed all day trying to avoid vomiting. Even though I watched the ball drop through burning tired eyes in bed while Marc snored next to me, with nary a drink in sight, I still got to feel nauseous and sick to my stomach the next day.
This was supposed be a feel-good New Year's Day. One where I cook up the patient cornish game hens that have been waiting in my freezer forever and get in a healthy workout. Instead a stomach bug and dry toast welcomed me into the New Year.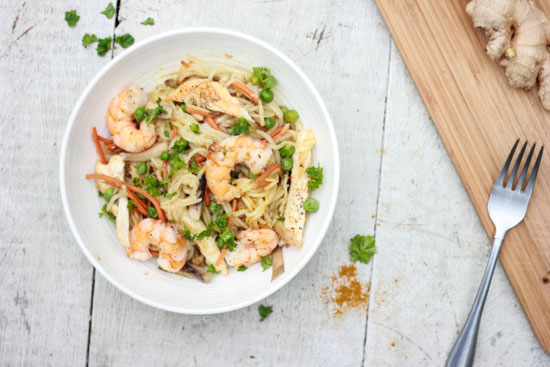 A few sicknesses and a few weeks later we're all back to normal and I'm celebrating with these Singapore Noodles.
I want to experiement with new cuisines this year. I barely ever make Asian food, I am intimidated by it. I think because I only have ever eaten it in a restaurant. I'm starting out with this version of Singapore Noodles – delicate noodles surrounded by golden brown chicken and shrimp in a flavorful sauce made with ginger and curry.
This dish is so colorful and flavorful. The ingredients are all so beautiful. I set them all up and then stared at them for awhile. Then took some pictures.
Behold.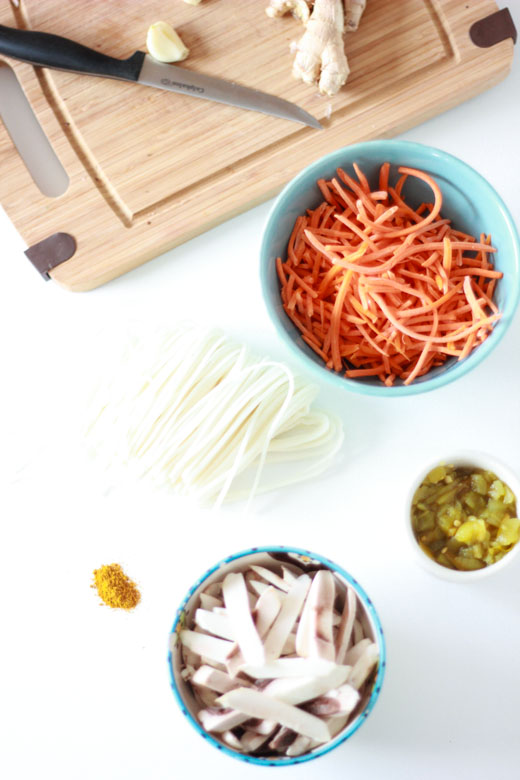 This picture above actually shows green serrano chili which I didn't end up using. So picture that cup being full of some beautifully robust peas.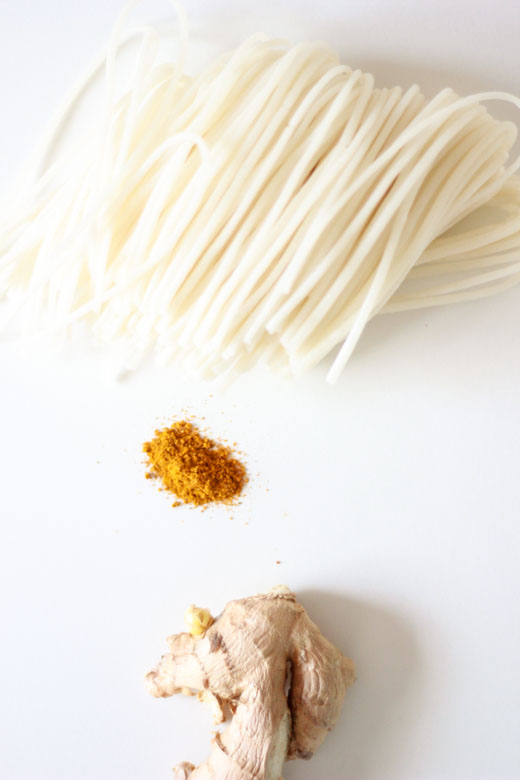 You can easily whip this up in the 20 minutes your starving husband is driving home from work after you promised him dinner was ready to go when in reality it wasn't at all.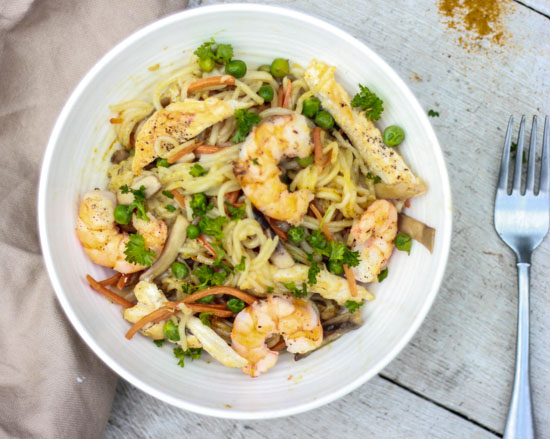 This was my first time cooking rice noodles. I poured them into the boiling water like pasta. Big mistake. This made extremely mushy noodles. Turns out cooking rice noodles is entirely different than cooking pasta. Here is a great article from the kitchn on how to cook rice noodles.
Other than the trickiness of rice noodles, this recipe is hard to mess up.
Sad moment – when I was ready to photograph and eat this and couldn't find my chopsticks.
Enjoy and Happy New Year!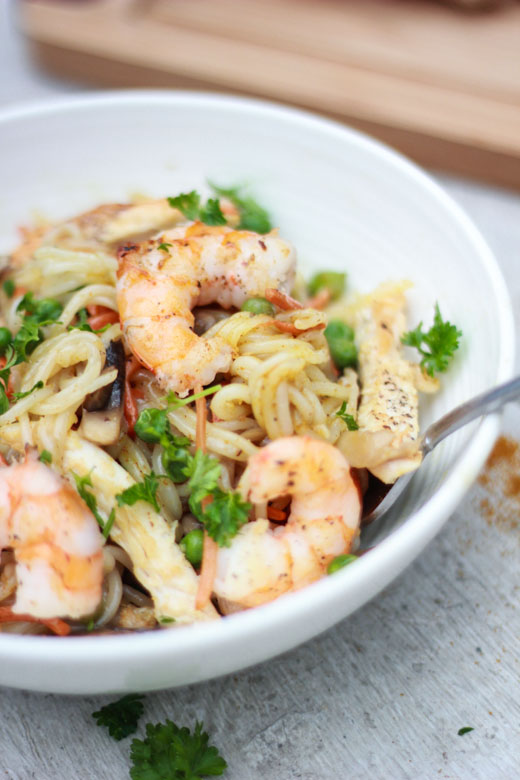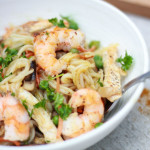 Singapore Noodles with Chicken and Shrimp
2015-01-15 07:51:32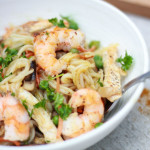 Serves 4
Deliciously delicate noodles surrounded by chicken, shrimp and veggies in a sauce flavored with curry and ginger.
Nutrition Facts
Amount Per Serving
* Percent Daily Values are based on a 2,000 calorie diet. Your Daily Values may be higher or lower depending on your calorie needs.
Ingredients
1 lb rice noodles
6 medium shrimp
2 chicken breasts cut into strips
2 tbsp vegetable oil
1 cup sliced shiitake mushroom
1 medium onion
1 cup shredded carrot
1/2 cup frozen cooked peas
2 tbsp soy sauce
3 tbs fish sauce
1 tbsp fresh grated ginger
1 tbsp curry
Instructions
Put rice noodles in a large bowl. Boil a pot of water. Once boiled, remove from heat and then pour hot water over the bowl of rice noodles. Soak until they are tender. Depending on what type of rice noodles you are using and their thickness, you should leave them soaking in the hot water anywhere from a minute to ten minutes. You'll want to keep checking and tasting them. Once they are tender but firm, drain immediately and rinse under cold water.
Heat skillet or wok and add vegetable oil. Season chicken and shrimp with salt and pepper.
Cook chicken over medium high heat for 3 minutes on each side until reach a golden brown and they are cooked through.
Add shrimp to the pan and just cook until translucent, about a minute each side.
Remove chicken and shrimp from pan and set aside.
Add onion, carrots and mushroom to the pan and cook for three minutes.
Add ginger and curry. Stir and cook for one minute.
Add the soy sauce and fish sauce. Stir.
Add chicken and shrimp back to the pan.
Add in the cooked rice noodles and peas, stir and heat through and serve.
Garnish with parsley.
Notes
I like to use vermicelli rice noodles which soften in about a minute in the hot water.
Simply Yum http://www.simplyyum.com/